Snap Beans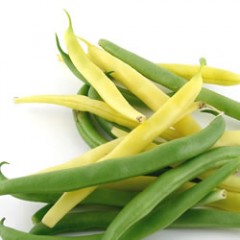 Snap beans are grown on a variety of farms throughout New York State. They are sold at roadside stands and other retail markets, wholesale markets and for processing. Snap beans come in many varieties to meet the needs of various markets and growers should consult seed suppliers and markets to select appropriate varieties. New York typically ranks 2nd or 3rd in the nation for processing snap bean production with roughly 20,000 acres grown annually. Similarly, the production of nearly 7,000 acres of fresh market beans consistently places New York in the top five producing states.
All snap beans share a general group of insects, diseases and abiotic disorders. While weed control strategies may vary with farm type and size of plantings, herbicides labeled for production are consistent for all types. Cornell Cooperative Extension Educators and Cornell faculty work together annually to conduct research on many aspects of snap bean production in the state. Below you will find educational information and results of our research trials.
Most Recent Snap Beans Content
2018 Eastern New York Fruit & Vegetable Conference Vegetable Presentations
Last Modified: April 2, 2018


Presentations from the 2018 ENYCHP Eastern New York Fruit & Vegetable Conference held February 20th and 21st for the vegetable sections.
Organic Production Guides
Robert Hadad, Extension Vegetable Specialist
Cornell Vegetable Program
Last Modified: July 17, 2017


Organic Production Guides for fruits, vegetables and dairy are available through the NYS Integrated Pest Management (IPM) program. They outline general practices for growing vegetable and fruit crops using organic integrated pest management techniques.
2015 Herbicides for Weed Control in Snap and Dry Beans
Julie Kikkert, Team Leader, Extension Vegetable Specialist
Cornell Vegetable Program
Last Modified: April 29, 2016


Have you had problem weeds slipping through your snap or dry bean weed control program? Have lambsquarters, ragweed, hairy or Eastern black nightshade, nutsedge, etc, been. escaping? Have you tried any of the newer materials or expanded application timings to try to improve your results? The 2015 update to the Herbicide for Snap and Dry Bean Weed Control chart will help you choose the best herbicide programs for your fields.

More Snap Beans Content


Upcoming Events
Pesticide Exam Certification Summer Trainings
July 2 - July 23, 2019
1:30pm - 4:30pm each day
Plattsburgh, NY
2019 Champlain Valley Pesticide Applicator Exam Intensive Training
CCE ENYCHP Horticulture Specialists Mike Basedow and Elisabeth Hodgdon will be offering four afternoons of training to review core concepts and commodity specific items in preparation for the exam.
CCE & Hudson Valley Research Lab Research & Extension Tour
July 26, 2019
12:30pm - 5:00pm
Highland, NY
The Eastern NY Commercial Horticultural Program and Hudson Valley Research Lab are hosting a 2019 Research and Extension Summer Tour on July 26th from 12:30 - 5:00 PM. Beginning at the Highland Research Station Conference Room.
Last Monday Grant Webinar for Fruit and Vegetable Growers - July
July 29, 2019
12:00-1:00
To help disseminate information on grants on a more consistent basis, we will be offering a "current grants" webinar on the last Monday of every month at noon
In order to help focus the program, the webinars will be limited to grants that are relevant to fruit and vegetable farmers in Eastern New York.
There is a possibility of webinars related to grants for experimental crops (i.e. hops and hemp) if it is likely that fruit and vegetable growers would be interested.
Announcements
Podcasts