Snap Beans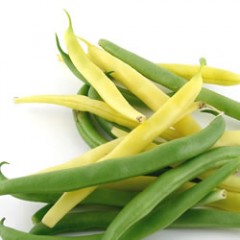 Snap beans are grown on a variety of farms throughout New York State. They are sold at roadside stands and other retail markets, wholesale markets and for processing. Snap beans come in many varieties to meet the needs of various markets and growers should consult seed suppliers and markets to select appropriate varieties. New York typically ranks 2nd or 3rd in the nation for processing snap bean production with roughly 20,000 acres grown annually. Similarly, the production of nearly 7,000 acres of fresh market beans consistently places New York in the top five producing states.
All snap beans share a general group of insects, diseases and abiotic disorders. While weed control strategies may vary with farm type and size of plantings, herbicides labeled for production are consistent for all types. Cornell Cooperative Extension Educators and Cornell faculty work together annually to conduct research on many aspects of snap bean production in the state. Below you will find educational information and results of our research trials.
Most Recent Snap Beans Content
2018 Eastern New York Fruit & Vegetable Conference Vegetable Presentations
Last Modified: April 2, 2018


Presentations from the 2018 ENYCHP Eastern New York Fruit & Vegetable Conference held February 20th and 21st for the vegetable sections.
Organic Production Guides
Robert Hadad, Extension Vegetable Specialist
Cornell Vegetable Program
Last Modified: July 17, 2017


Organic Production Guides for fruits, vegetables and dairy are available through the NYS Integrated Pest Management (IPM) program. They outline general practices for growing vegetable and fruit crops using organic integrated pest management techniques.
2015 Herbicides for Weed Control in Snap and Dry Beans
Julie Kikkert, Team Leader, Extension Vegetable Specialist
Cornell Vegetable Program
Last Modified: April 29, 2016


Have you had problem weeds slipping through your snap or dry bean weed control program? Have lambsquarters, ragweed, hairy or Eastern black nightshade, nutsedge, etc, been. escaping? Have you tried any of the newer materials or expanded application timings to try to improve your results? The 2015 update to the Herbicide for Snap and Dry Bean Weed Control chart will help you choose the best herbicide programs for your fields.

More Snap Beans Content


Upcoming Events
20 Minute Ag Manager Webinars: Crop Insurance for Diverse Farms
August 14, 2018
12-12:30 PM
20 minute lunchtime webinars will be held on Tuesdays this summer covering farm business management topics.

20 Minute Ag Manager Webinars: Flood Insurance and Other Disaster Programs
August 21, 2018
12-12:30 PM
20 minute lunchtime webinars will be held on Tuesdays this summer covering farm business management topics.

Fresh Market Vegetable Grading & Packing Workshop
August 21, 2018
2:00 PM - 5:00 PM
Deposit, NY
Are you interested in farm to school or selling to institutional markets? Maybe you'd like to know more about grading and packing your fresh market produce right in the field? CCE Broome County, in partnership with the CCE Cornell Vegetable Program and the Cornell Baskets to Pallets program, is offering a hands-on, on-farm experience designed to prepare farms in NY, both beginning and experienced, to enter new markets.

Announcements
Check out the Updated Labeled Insecticides for SWD
Labeled Insecticides for Control of Spotted Wing Drosophila in New York Berry Crops - Quick Guide Compiled by Greg Loeb, Laura McDermott, Peter Jentsch & Juliet Carroll, Cornell University. Updated regularly. Check it out at this link!
New Resources from CCE ENYCHP!
We are developing new ways to connect with the CCE ENYCHP team this year!
We have a Youtube page located at this link
. Check out videos on Table Grape Production, Pest Updates and the 20 Minute Ag Manager - in 4 Minutes series.
There are also text alerts available.
Fruit and vegetable farmers in 17 Eastern NY counties can now receive real time alerts on high risk disease and pest outbreaks texted directly to their cell phone. The Eastern NY Commercial Horticulture program, which is supported by local Cornell Cooperative Extension associations, will now offer text alerts to those that sign up.
The text alerts will be reserved for important crop alerts that could impact management decisions immediately. For instance, if there were an outbreak of Late Blight in the area, this would be transmitted to vegetable growers.
Farmers can choose the crop for which they wish to receive updates. Additionally they can request that Ag Business Alerts be sent to them. These alerts might include due dates for crop insurance deadlines, market opportunities etc.
Text alerts are easy to access. Just click on the link below and fill out a very short registration form. It takes just seconds to do - access to important information has never been so easy!!

If you have questions, please contact Abby Henderson at 518-746-2553 or email her at aef225@cornell.edu.

Confused by the WPS (Worker Protection Standard)?
Please take note: WPS pertains to all farms-organic and conventional! To be sure that you are complying with these regulations, please view the EPA link below:
https://www.epa.gov/sites/production/files/2015-09/documents/comparison-chart-wps.pdf
Eastern New York Commercial Horticulture - Cornell Cooperative Extension
Your Trusted Source for Research-Based Knowledge