Snap Beans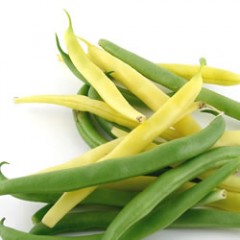 Snap beans are grown on a variety of farms throughout New York State. They are sold at roadside stands and other retail markets, wholesale markets and for processing. Snap beans come in many varieties to meet the needs of various markets and growers should consult seed suppliers and markets to select appropriate varieties. New York typically ranks 2nd or 3rd in the nation for processing snap bean production with roughly 20,000 acres grown annually. Similarly, the production of nearly 7,000 acres of fresh market beans consistently places New York in the top five producing states.
All snap beans share a general group of insects, diseases and abiotic disorders. While weed control strategies may vary with farm type and size of plantings, herbicides labeled for production are consistent for all types. Cornell Cooperative Extension Educators and Cornell faculty work together annually to conduct research on many aspects of snap bean production in the state. Below you will find educational information and results of our research trials.
Relevant Event
Modern Stone Fruit Training Systems Webinar
March 16, 2021
2018 Eastern New York Fruit & Vegetable Conference Vegetable Presentations
Last Modified: April 2, 2018


Presentations from the 2018 ENYCHP Eastern New York Fruit & Vegetable Conference held February 20th and 21st for the vegetable sections.
Organic Production Guides
Robert Hadad, Extension Vegetable Specialist
Cornell Vegetable Program
Last Modified: July 17, 2017


Organic Production Guides for fruits, vegetables and dairy are available through the NYS Integrated Pest Management (IPM) program. They outline general practices for growing vegetable and fruit crops using organic integrated pest management techniques.
2015 Herbicides for Weed Control in Snap and Dry Beans
Julie Kikkert, Team Leader, Extension Vegetable Specialist
Cornell Vegetable Program
Last Modified: April 29, 2016


Have you had problem weeds slipping through your snap or dry bean weed control program? Have lambsquarters, ragweed, hairy or Eastern black nightshade, nutsedge, etc, been. escaping? Have you tried any of the newer materials or expanded application timings to try to improve your results? The 2015 update to the Herbicide for Snap and Dry Bean Weed Control chart will help you choose the best herbicide programs for your fields.

2015 Lima Bean Herbicide Chart
Julie Kikkert, Team Leader, Extension Vegetable Specialist
Cornell Vegetable Program
Last Modified: April 1, 2015


Baby lima beans for processing are a new crop in New York. As growers prepare to plant, they must understand the differences in herbicides for this crop compared to snap beans and dry beans. Lima beans react to some herbicides differently because they are the species Phaseolus lunatus as compared to common beans which are P. vulgaris.
O-zone Injury on Vegetables
Crystal Stewart-Courtens, Extension Vegetable Specialist
Eastern New York Commercial Horticulture
Last Modified: August 22, 2012


Hot, humid weather with stagnant air masses may lead to ozone damage on crops. Ozone warnings were recently issued for much of New York. These warnings are intended for people with respiratory problems and let them know they should limit their outdoor activity and try to stay as much as possible in air-conditioned locations. These warning are also a good indicator that ozone damage may occur in plants.
Nightshade Management Reduces Crop Loss
Julie Kikkert, Team Leader, Extension Vegetable Specialist
Cornell Vegetable Program
Last Modified: March 20, 2012

Depending on the crop, nightshade can reduce crop yields, harbor diseases, and cause crops to be rejected by processors. Learn about the species of nightshades in NY, physiological differences between them, emergence and growth information, and control strategies.


Upcoming Events
Cleaning & Sanitizing on Produce Farms
March 11, 2021
The Institute for Food Safety at Cornell University, UVM Extension Ag Engineering, and CCE Orange County, CCE Dutchess County, and CCE ENYCHP are hosting a workshop on Cleaning and Sanitizing on Produce Farms and in Packing Facilities. This remote 3.5 hour webinar will provide:
A brief review of microbial risks in produce farms and packing facilities
Conducting a Sanitation Operational Assessment
Presentations focused on the: o Basics of wet and dry cleaning and sanitizing o Value and importance of sanitation SOPs
A hands-on exercise writing a sanitation SOP
Modern Stone Fruit Training Systems Webinar
March 16, 2021
While yields of stone fruits planted to traditional orchard systems have been lagging behind our modern apple plantings in the northeast, research is actively being conducted to utilize improved rootstocks and modern, narrow training systems to increase productivity and reduce labor costs in peach and cherry systems.
In this webinar, we will be joined by Dr. Jim Schupp, Dr. Greg Lang, and Dr. Terence Robinson, as they discuss improved strategies for growing peaches and cherries in the northeast.
How to Obtain a Pesticide Applicator License - March 23
March 23, 2021
Thinking about becoming a certified pesticide applicator in New York? This online program will cover the basics of who needs a pesticide license, license types, examination procedures, and important information to know for the test. We will incorporate interactive practice questions and activities within the program to test participant knowledge in preparation for the exam.
Announcements
Podcasts