Snap Beans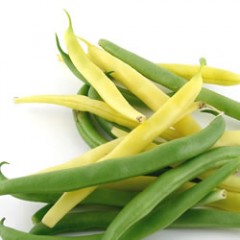 Snap beans are grown on a variety of farms throughout New York State. They are sold at roadside stands and other retail markets, wholesale markets and for processing. Snap beans come in many varieties to meet the needs of various markets and growers should consult seed suppliers and markets to select appropriate varieties. New York typically ranks 2nd or 3rd in the nation for processing snap bean production with roughly 20,000 acres grown annually. Similarly, the production of nearly 7,000 acres of fresh market beans consistently places New York in the top five producing states.
All snap beans share a general group of insects, diseases and abiotic disorders. While weed control strategies may vary with farm type and size of plantings, herbicides labeled for production are consistent for all types. Cornell Cooperative Extension Educators and Cornell faculty work together annually to conduct research on many aspects of snap bean production in the state. Below you will find educational information and results of our research trials.
Most Recent Snap Beans Content
2018 Eastern New York Fruit & Vegetable Conference Vegetable Presentations
Last Modified: April 2, 2018


Presentations from the 2018 ENYCHP Eastern New York Fruit & Vegetable Conference held February 20th and 21st for the vegetable sections.
Organic Production Guides
Robert Hadad, Extension Vegetable Specialist
Cornell Vegetable Program
Last Modified: July 17, 2017


Organic Production Guides for fruits, vegetables and dairy are available through the NYS Integrated Pest Management (IPM) program. They outline general practices for growing vegetable and fruit crops using organic integrated pest management techniques.
2015 Herbicides for Weed Control in Snap and Dry Beans
Julie Kikkert, Team Leader, Extension Vegetable Specialist
Cornell Vegetable Program
Last Modified: April 29, 2016


Have you had problem weeds slipping through your snap or dry bean weed control program? Have lambsquarters, ragweed, hairy or Eastern black nightshade, nutsedge, etc, been. escaping? Have you tried any of the newer materials or expanded application timings to try to improve your results? The 2015 update to the Herbicide for Snap and Dry Bean Weed Control chart will help you choose the best herbicide programs for your fields.

More Snap Beans Content


Upcoming Events
Tarping for Reduced Tillage Workshop
November 2 - November 19, 2019

Are you a vegetable farmer already using tarps? Or are you wondering if and how tarps could work best on your farm?

The Cornell Small Farms Program is excited to announce a series of workshops on tarping for reduced tillage in small-scale vegetable systems, to be held in Maine and New York this fall. The Reduced Tillage (RT) project of the Cornell Small Farms Program supports farmers in adopting scale-appropriate RT practices that can lead to healthy, productive soils and greater profitability. Through the evaluation of novel tools and methods using systems-based field research and on-farm trials, the project helps farmers learn about the approaches that can work for their farm. This work is accomplished in collaboration with the University of Maine, and with support from Northeast SARE.

Winter Greens High Tunnel Tour
November 13, 2019
9:30am - 4:00pm
Willsboro, NY
Join us for a tour of overwintered high tunnel greens. Our first stop will be the Willsboro Research Farm, where we will visit our spinach nitrogen fertility experiment, discuss research results, and view a sous vide hot water seed treatment demonstration. Following an early lunch, we will carpool across the lake via the ferry to the Intervale Community Farm in Burlington, Vermont. The Intervale has been providing organic vegetables to the greater Burlington area for 30 years and has a 600 member CSA. Farm manager Andy Jones will discuss their evolving winter greens production practices, including variety selection, soil fertility, irrigation, and food safety practices. After touring their high tunnels and new wash/pack shed, we will return to Willsboro.
Learn About Using the H-2A Program on Small Farms
November 18, 2019
1:30pm - 4:00pm
Schenectady, NY
Are you worried about labor next season on your farm?
Are you wondering if the H-2A program will make sense on your farm?
The H-2A program allows US employers who meet specific regulatory requirements to bring foreign nationals to the US to fill temporary agricultural jobs. Join us to learn about how to use the H-2A program on small farms. Learn from US DOL H-2A staff and a CSA vegetable farmer, with experience using H-2A, about what it takes to use the program.
Announcements
Podcasts