Peaches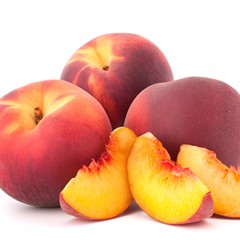 The cultivation of peaches began in China as early as 2000 B.C. The cultivation of peaches continued through the old world and was transported to the America's where peach cultivation thrived on the east coast. By the mid-1700s, peaches were so plentiful in the United States that botanists thought of them as native fruits. Currently California, South Carolina, Georgia and New Jersey account for three quarters of U.S. peach production. New York grows over 2000 acres of peaches with more than a quarter of that located in the eastern portion of the state.
There are two types of peaches, clingstone and freestone. With clingstone peaches, the flesh "clings" to the "stone" (the pit) of the peach, making it difficult to separate. As Clingstone varieties retain their flavor and texture during processing, they are more suitable to canning and value added products.
The pit of freestone peaches separates from the flesh, making it ideal for fresh consumption. Freestone peaches are generally larger than clingstones with a firmer, less juicy texture. While most commonly eaten fresh, these peaches may also be frozen and dried.
Annual per person consumption of peaches in the United States peaked at 13 pounds in the early 1970s. By 2008 annual consumption had dropped to 8.8 pounds per person. Consumer research conducted in the mid-2000s revealed buyer frustration with mealy textures, fruit browning and lack of sweetness. This frustration has actually helped improve demand for local, NY produced peaches as there is simply nothing like a tree-ripened peach.
Over the last 20 years, Cornell research and extension projects have helped growers increase yields and fruit quality by increasing tree densities and improving labor efficiency. We estimate that profitability of new high density orchards is 100 to 300% greater than the traditional low-density orchards. For more information about tree fruit production, please visit the Cornell Tree Fruit website at
http://www.fruit.cornell.edu/tree_fruit/index.htm.
Most Recent Peaches Content
2019 Eastern New York Fruit & Vegetable Conference Tree Fruit Presentations
Last Modified: April 3, 2019

Presentations from the 2019 ENYCHP Eastern New York Fruit & Vegetable Conference held February 19-21 for the tree fruit sections.
2018 Eastern New York Fruit & Vegetable Conference Tree Fruit Presentations
Last Modified: April 6, 2018


Presentations from the 2018 ENYCHP Eastern New York Fruit & Vegetable Conference held February 20th and 21st for the tree fruit sections.
2017 Winter Tree Fruit School Presentations
Anna Wallis, Tree Fruit and Grape Specialist
Eastern New York Commercial Horticulture
Last Modified: February 16, 2017

Presentations given at the 2017 Eastern NY Commercial Tree Fruit Schools are available by clicking on the following links.
More Peaches Content


Upcoming Events
Tarping for Reduced Tillage Workshop
November 2 - November 19, 2019

Are you a vegetable farmer already using tarps? Or are you wondering if and how tarps could work best on your farm?

The Cornell Small Farms Program is excited to announce a series of workshops on tarping for reduced tillage in small-scale vegetable systems, to be held in Maine and New York this fall. The Reduced Tillage (RT) project of the Cornell Small Farms Program supports farmers in adopting scale-appropriate RT practices that can lead to healthy, productive soils and greater profitability. Through the evaluation of novel tools and methods using systems-based field research and on-farm trials, the project helps farmers learn about the approaches that can work for their farm. This work is accomplished in collaboration with the University of Maine, and with support from Northeast SARE.

Winter Greens High Tunnel Tour
November 13, 2019
9:30am - 4:00pm
Willsboro, NY
Join us for a tour of overwintered high tunnel greens. Our first stop will be the Willsboro Research Farm, where we will visit our spinach nitrogen fertility experiment, discuss research results, and view a sous vide hot water seed treatment demonstration. Following an early lunch, we will carpool across the lake via the ferry to the Intervale Community Farm in Burlington, Vermont. The Intervale has been providing organic vegetables to the greater Burlington area for 30 years and has a 600 member CSA. Farm manager Andy Jones will discuss their evolving winter greens production practices, including variety selection, soil fertility, irrigation, and food safety practices. After touring their high tunnels and new wash/pack shed, we will return to Willsboro.
Learn About Using the H-2A Program on Small Farms
November 18, 2019
1:30pm - 4:00pm
Schenectady, NY
Are you worried about labor next season on your farm?
Are you wondering if the H-2A program will make sense on your farm?
The H-2A program allows US employers who meet specific regulatory requirements to bring foreign nationals to the US to fill temporary agricultural jobs. Join us to learn about how to use the H-2A program on small farms. Learn from US DOL H-2A staff and a CSA vegetable farmer, with experience using H-2A, about what it takes to use the program.
Announcements
Podcasts