Peaches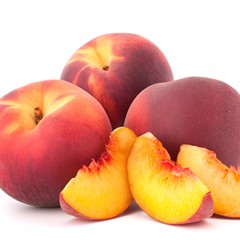 The cultivation of peaches began in China as early as 2000 B.C. The cultivation of peaches continued through the old world and was transported to the America's where peach cultivation thrived on the east coast. By the mid-1700s, peaches were so plentiful in the United States that botanists thought of them as native fruits. Currently California, South Carolina, Georgia and New Jersey account for three quarters of U.S. peach production. New York grows over 2000 acres of peaches with more than a quarter of that located in the eastern portion of the state.
There are two types of peaches, clingstone and freestone. With clingstone peaches, the flesh "clings" to the "stone" (the pit) of the peach, making it difficult to separate. As Clingstone varieties retain their flavor and texture during processing, they are more suitable to canning and value added products.
The pit of freestone peaches separates from the flesh, making it ideal for fresh consumption. Freestone peaches are generally larger than clingstones with a firmer, less juicy texture. While most commonly eaten fresh, these peaches may also be frozen and dried.
Annual per person consumption of peaches in the United States peaked at 13 pounds in the early 1970s. By 2008 annual consumption had dropped to 8.8 pounds per person. Consumer research conducted in the mid-2000s revealed buyer frustration with mealy textures, fruit browning and lack of sweetness. This frustration has actually helped improve demand for local, NY produced peaches as there is simply nothing like a tree-ripened peach.
Over the last 20 years, Cornell research and extension projects have helped growers increase yields and fruit quality by increasing tree densities and improving labor efficiency. We estimate that profitability of new high density orchards is 100 to 300% greater than the traditional low-density orchards. For more information about tree fruit production, please visit the Cornell Tree Fruit website at
http://www.fruit.cornell.edu/tree_fruit/index.htm.
Most Recent Peaches Content
2018 Eastern New York Fruit & Vegetable Conference Tree Fruit Presentations
Last Modified: April 6, 2018
2017 Winter Tree Fruit School Presentations
Anna Wallis, Tree Fruit and Grape Specialist
Eastern New York Commercial Horticulture
Last Modified: February 16, 2017
Presentations - 2016 Winter Tree Fruit Schools
Sarah Elone, Field Technician
Eastern New York Commercial Horticulture
Last Modified: February 22, 2016
More Peaches Content


Upcoming Events
2019 Hudson Valley Pesticide Applicator Pre-Exam Training
March 18, 2019 : 2019 Hudson Valley Pesticide Applicator Pre-Exam Training Day 1
March 20, 2019 : 2019 Hudson Valley Pesticide Applicator Pre-Exam Training Day 2
CCE ENYCHP Agriculture Specialists will be offering a training to review core concepts and commodity specific items in preparation for the exam.
Last Monday Grant Webinar for Fruit and Vegetable Growers - March
March 25, 2019
12:00-1:00
To help disseminate information on grants on a more consistent basis, we will be offering a "current grants" webinar on the last Monday of every month at noon
In order to help focus the program, the webinars will be limited to grants that are relevant to fruit and vegetable farmers in Eastern New York.
There is a possibility of webinars related to grants for experimental crops (i.e. hops and hemp) if it is likely that fruit and vegetable growers would be interested.
How to Obtain a Pesticide Applicator License
March 26, 2019
1:00pm - 4:00pm
Hudson Falls, NY
Receive an overview of the pesticide applicator certification process and some of the key concepts of the exam materials needed to obtain a private or commercial NYSDEC pesticide applicator license.
Announcements
Resources from CCE ENYCHP!
We are developing new ways to connect with the CCE ENYCHP team this year!
We have a Youtube page located at this link
. Check out videos on Table Grape Production, Pest Updates and the
20 Minute Ag Manager - in 4 Minutes series
.
We have a
Facebook Page here
as well as an
Instagram page
. We keep these places updated with current projects, events, and other interesting articles and deadlines.
There are also text alerts available.
Fruit and vegetable farmers in 17 Eastern NY counties can now receive real time alerts on high risk disease and pest outbreaks texted directly to their cell phone. The Eastern NY Commercial Horticulture program, which is supported by local Cornell Cooperative Extension associations, will now offer text alerts to those that enroll in our program in 2019.
The text alerts will be reserved for important crop alerts that could impact management decisions immediately. For instance, if there were an outbreak of Late Blight in the area, this would be transmitted to vegetable growers.
Farmers can choose the crop for which they wish to receive updates. Additionally they can request that Ag Business Alerts be sent to them. These alerts might include due dates for crop insurance deadlines, market opportunities etc.

If you have questions, please contact enychp@cornell.edu