Peaches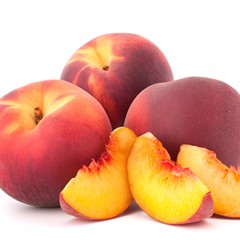 The cultivation of peaches began in China as early as 2000 B.C. The cultivation of peaches continued through the old world and was transported to the America's where peach cultivation thrived on the east coast. By the mid-1700s, peaches were so plentiful in the United States that botanists thought of them as native fruits. Currently California, South Carolina, Georgia and New Jersey account for three quarters of U.S. peach production. New York grows over 2000 acres of peaches with more than a quarter of that located in the eastern portion of the state.
There are two types of peaches, clingstone and freestone. With clingstone peaches, the flesh "clings" to the "stone" (the pit) of the peach, making it difficult to separate. As Clingstone varieties retain their flavor and texture during processing, they are more suitable to canning and value added products.
The pit of freestone peaches separates from the flesh, making it ideal for fresh consumption. Freestone peaches are generally larger than clingstones with a firmer, less juicy texture. While most commonly eaten fresh, these peaches may also be frozen and dried.
Annual per person consumption of peaches in the United States peaked at 13 pounds in the early 1970s. By 2008 annual consumption had dropped to 8.8 pounds per person. Consumer research conducted in the mid-2000s revealed buyer frustration with mealy textures, fruit browning and lack of sweetness. This frustration has actually helped improve demand for local, NY produced peaches as there is simply nothing like a tree-ripened peach.
Over the last 20 years, Cornell research and extension projects have helped growers increase yields and fruit quality by increasing tree densities and improving labor efficiency. We estimate that profitability of new high density orchards is 100 to 300% greater than the traditional low-density orchards. For more information about tree fruit production, please visit the Cornell Tree Fruit website at
http://www.fruit.cornell.edu/tree_fruit/index.htm.
Most Recent Peaches Content
2017 Winter Tree Fruit School Presentations
Anna Wallis, Tree Fruit and Grape Specialist
Eastern New York Commercial Horticulture
Last Modified: February 16, 2017

Presentations given at the 2017 Eastern NY Commercial Tree Fruit Schools are available by clicking on the following links.
Presentations - 2016 Winter Tree Fruit Schools
Sarah Rohwer, Field Technician
Eastern New York Commercial Horticulture
Last Modified: February 22, 2016

Presentations given at the 2016 Commercial Tree Fruit Schools in Lake George (LG) and Kingston in the Hudson Valley (HV) are available by clicking on the following links.

New fungicides labeled for use in tree fruit - all Special Local Needs Labels
Deborah Breth, Integrated Pest Management
Lake Ontario Fruit Program
Last Modified: April 9, 2014

The new class of fungicides, SDHI's, are now registered for use in tree fruit. Fontelis was registered last season, and Luna Tranquility and Merivon were registered this spring. They are all registered in NY as "Restricted Use" fungicides. Due to the special restrictions for use in NY, they also are Special Local Need registrations. In order to apply these materials you must have a copy of the label and the SLN label in your possession. You can access these SLN and label to study or print at these links.

More Peaches Content


Upcoming Events
Hudson Valley Pesticide Applicator Pre-Exam Training
March 19 - March 21, 2018
9:00am-12:00pm
Highland, NY
CCE ENYCHP Agriculture Specialists will be offering a training to review core concepts and commodity specific items in preparation for the exam.
Registration Fee covers two days of review: Monday 3/19 and Wednesday 3/21, 9am-12noon

Exam: Tuesday 3/27, 9AM-1PM

Are you managing your risks as a farm employer? The compliance and safety workshop
March 22, 2018
1:00-4:00pm
Highlnd, NY
This is the workshop that covers the nuts and bolts of risk management as a farm employer. Hear presentations from NYS DOL and NYCAMH on employer regulations and safety.
NEWA "Hands-On" Workshop: Grapes and Small Fruits
March 28, 2018
9:30 to 11:45am
Voorheesville, NY
At this workshop, growers will learn the ins-and-outs of the NEWA system (Network for Environment and Weather Applications). NEWA is an online system that provides hourly and daily weather data, pest forecasting models, and crop production models, to help implement IPM practices on farms across the Northeast. Attendees will learn how to efficiently navigate the NEWA interface, including how to get weather data, access station specific pages, and effectively utilize models for grape berry moth, black rot, downy mildew, powdery mildew and Phomopsis. New models currently being developed for small fruits will also be discussed.
Announcements
Confused by the WPS (Worker Protection Standard)?
Please take note: WPS pertains to all farms-organic and conventional! To be sure that you are complying with these regulations, please view the EPA link below:
https://www.epa.gov/sites/production/files/2015-09/documents/comparison-chart-wps.pdf
Growing for Wholesale: Grading and Packing Guides
Grading and packing guidelines are now available for 16 commonly grown specialty crops in NYS: broccoli crowns, Brussels sprouts, corn, green peppers, cucumbers, green cabbage, red cabbage, savory cabbage, cauliflower, eggplant, green beans, jalapenos, poblanos, Hungarian hot peppers, summer squash, and zucchini. Find all 24 sheets online at:
https://rvpadmin.cce.cornell.edu/uploads/doc_612.pdf
This resource was developed through the support of Cheryl Thayer of CCE Harvest NY, Dave Walczak of Eden Valley Growers, Angela Parr and Robert Hadad of the CCE Cornell Vegetable Program, and Jim Monahan of Cornell Cooperative Extension. Further, development of this resource was made possible through grant funding from the USDA Local Food Promotion Program.
Eastern New York Commercial Horticulture - Cornell Cooperative Extension
Your Trusted Source for Research-Based Knowledge