Potatoes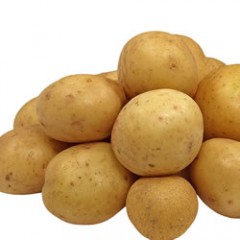 Potatoes are grown all across NYS, though the largest farms tend to be located in Western NY, the Finger Lakes Region and on Long Island, on deep, fertile, light- to medium-textured mineral soils, and on muck (organic) soils. Potatoes are grown on small, medium and large farms, for retail, wholesale (east of the Mississippi) and organic markets, for both fresh market and processing into chips, and for certified seed potatoes. Most growers store some of their crop for winter sales. Varieties include round whites, red-skinned potatoes, yellows, and a smaller acreage of a wide variety of specialty types, such as those with blue or red skin and flesh, fingerlings, etc. Potatoes are one of the highest value vegetables in NY, grown on about 17,100 acres, with an average value of about $74.4 million recently.
Potatoes have many serious insect and disease pests. Late blight can be a devastating disease, capable of completely destroying an unprotected crop within 3 weeks in wet weather, and rotting the tubers. Late blight was the major cause of the Irish Potato Famine. It also affects tomatoes. New, more virulent strains of late blight fungus began showing up 20 years ago and the disease has been harder to predict and control ever since. Early blight is a common fungal disease on both potatoes and tomatoes which survives over-winter in the soil. Colorado potato beetles can cause serious defoliation if crops are not rotated up to a quarter mile from where they, tomatoes or eggplant were previously planted. They can rapidly become resistant to commonly used insecticides. Tiny, sucking leafhoppers move up from the south each June on weather systems, and can cause severe leaf burn and yield reduction. Aphids can also be a production problem as well as carrying viral diseases that can affect potatoes grown from saved seed.
Most Recent Potatoes Content
Winter Storage Keys to Success - Vegetable Crops
Last Modified: November 29, 2017


Key topics covered:

- Growing a healthy Crop and keeping it that way in storage
- Storage conditions
- Construction of coolers
- Controls and Thermostats
- Monitoring and more advanced controls
2017 NYS Certified Seed Potato Crop Directory
Last Modified: October 31, 2017


The 2017 NYS Certified Seed Potato Crop Directory is now available. There is a wealth of information on NYS potato seed certification, as well as on the varieties grown for certification in 2017.
Organic Production Guides
Robert Hadad, Extension Vegetable Specialist
Cornell Vegetable Program
Last Modified: July 17, 2017


Organic Production Guides for fruits, vegetables and dairy are available through the NYS Integrated Pest Management (IPM) program. They outline general practices for growing vegetable and fruit crops using organic integrated pest management techniques.
More Potatoes Content


Upcoming Events
Hudson Valley Pesticide Applicator Pre-Exam Training
March 19 - March 21, 2018
9:00am-12:00pm
Highland, NY
CCE ENYCHP Agriculture Specialists will be offering a training to review core concepts and commodity specific items in preparation for the exam.
Registration Fee covers two days of review: Monday 3/19 and Wednesday 3/21, 9am-12noon

Exam: Tuesday 3/27, 9AM-1PM

Are you managing your risks as a farm employer? The compliance and safety workshop
March 22, 2018
1:00-4:00pm
Highlnd, NY
This is the workshop that covers the nuts and bolts of risk management as a farm employer. Hear presentations from NYS DOL and NYCAMH on employer regulations and safety.
NEWA "Hands-On" Workshop: Grapes and Small Fruits
March 28, 2018
9:30 to 11:45am
Voorheesville, NY
At this workshop, growers will learn the ins-and-outs of the NEWA system (Network for Environment and Weather Applications). NEWA is an online system that provides hourly and daily weather data, pest forecasting models, and crop production models, to help implement IPM practices on farms across the Northeast. Attendees will learn how to efficiently navigate the NEWA interface, including how to get weather data, access station specific pages, and effectively utilize models for grape berry moth, black rot, downy mildew, powdery mildew and Phomopsis. New models currently being developed for small fruits will also be discussed.
Announcements
Confused by the WPS (Worker Protection Standard)?
Please take note: WPS pertains to all farms-organic and conventional! To be sure that you are complying with these regulations, please view the EPA link below:
https://www.epa.gov/sites/production/files/2015-09/documents/comparison-chart-wps.pdf
Growing for Wholesale: Grading and Packing Guides
Grading and packing guidelines are now available for 16 commonly grown specialty crops in NYS: broccoli crowns, Brussels sprouts, corn, green peppers, cucumbers, green cabbage, red cabbage, savory cabbage, cauliflower, eggplant, green beans, jalapenos, poblanos, Hungarian hot peppers, summer squash, and zucchini. Find all 24 sheets online at:
https://rvpadmin.cce.cornell.edu/uploads/doc_612.pdf
This resource was developed through the support of Cheryl Thayer of CCE Harvest NY, Dave Walczak of Eden Valley Growers, Angela Parr and Robert Hadad of the CCE Cornell Vegetable Program, and Jim Monahan of Cornell Cooperative Extension. Further, development of this resource was made possible through grant funding from the USDA Local Food Promotion Program.
Eastern New York Commercial Horticulture - Cornell Cooperative Extension
Your Trusted Source for Research-Based Knowledge