Potatoes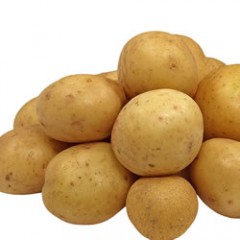 Potatoes are grown all across NYS, though the largest farms tend to be located in Western NY, the Finger Lakes Region and on Long Island, on deep, fertile, light- to medium-textured mineral soils, and on muck (organic) soils. Potatoes are grown on small, medium and large farms, for retail, wholesale (east of the Mississippi) and organic markets, for both fresh market and processing into chips, and for certified seed potatoes. Most growers store some of their crop for winter sales. Varieties include round whites, red-skinned potatoes, yellows, and a smaller acreage of a wide variety of specialty types, such as those with blue or red skin and flesh, fingerlings, etc. Potatoes are one of the highest value vegetables in NY, grown on about 17,100 acres, with an average value of about $74.4 million recently.
Potatoes have many serious insect and disease pests. Late blight can be a devastating disease, capable of completely destroying an unprotected crop within 3 weeks in wet weather, and rotting the tubers. Late blight was the major cause of the Irish Potato Famine. It also affects tomatoes. New, more virulent strains of late blight fungus began showing up 20 years ago and the disease has been harder to predict and control ever since. Early blight is a common fungal disease on both potatoes and tomatoes which survives over-winter in the soil. Colorado potato beetles can cause serious defoliation if crops are not rotated up to a quarter mile from where they, tomatoes or eggplant were previously planted. They can rapidly become resistant to commonly used insecticides. Tiny, sucking leafhoppers move up from the south each June on weather systems, and can cause severe leaf burn and yield reduction. Aphids can also be a production problem as well as carrying viral diseases that can affect potatoes grown from saved seed.
Relevant Events
Precision Pruning for Apple Crop Load Management
January 30, 2020
Plattsburgh, NY
High Tunnel Tomato Production Farmer to Farmer Workshop-Poughkeepsie
February 4, 2020
Poughkeepsie, NY
High Tunnel Tomato Production Farmer to Farmer Workshop-Saratoga
February 6, 2020
Saratoga Springs, NY
2020 Orange County Onion School
March 6, 2020
Pine Island, NY
Most Recent Potatoes Content
2018 CCE ENYCHP Potato Variety Trial Results
Chuck Bornt, Team Leader, Extension Vegetable Specialist
Eastern New York Commercial Horticulture
Last Modified: January 24, 2019
The CCE ENYCHP evaluated 34 fresh market potato varieties in 2018 for yield, quality and other characteristics. There was a wide range of skin and flesh colors making for a very colorful trial.
Approved Potato Desiccants in NYS
Chuck Bornt, Team Leader, Extension Vegetable Specialist
Eastern New York Commercial Horticulture
Last Modified: August 8, 2018
Insecticides Labeled for Colorado Potato Beetle
Chuck Bornt, Team Leader, Extension Vegetable Specialist
Eastern New York Commercial Horticulture
Last Modified: June 20, 2018

For a chart of conventional and organic spray options for Colorado Potato Beetle:
More Potatoes Content


Upcoming Events
Precision Pruning for Apple Crop Load Management
January 30, 2020
Plattsburgh, NY
High Tunnel Tomato Production Farmer to Farmer Workshop-Poughkeepsie
February 4, 2020
Poughkeepsie, NY
High Tunnel Tomato Production Farmer to Farmer Workshop-Saratoga
February 6, 2020
Saratoga Springs, NY
Announcements
Podcasts