Potatoes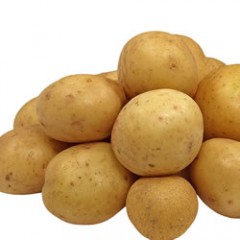 Potatoes are grown all across NYS, though the largest farms tend to be located in Western NY, the Finger Lakes Region and on Long Island, on deep, fertile, light- to medium-textured mineral soils, and on muck (organic) soils. Potatoes are grown on small, medium and large farms, for retail, wholesale (east of the Mississippi) and organic markets, for both fresh market and processing into chips, and for certified seed potatoes. Most growers store some of their crop for winter sales. Varieties include round whites, red-skinned potatoes, yellows, and a smaller acreage of a wide variety of specialty types, such as those with blue or red skin and flesh, fingerlings, etc. Potatoes are one of the highest value vegetables in NY, grown on about 17,100 acres, with an average value of about $74.4 million recently.
Potatoes have many serious insect and disease pests. Late blight can be a devastating disease, capable of completely destroying an unprotected crop within 3 weeks in wet weather, and rotting the tubers. Late blight was the major cause of the Irish Potato Famine. It also affects tomatoes. New, more virulent strains of late blight fungus began showing up 20 years ago and the disease has been harder to predict and control ever since. Early blight is a common fungal disease on both potatoes and tomatoes which survives over-winter in the soil. Colorado potato beetles can cause serious defoliation if crops are not rotated up to a quarter mile from where they, tomatoes or eggplant were previously planted. They can rapidly become resistant to commonly used insecticides. Tiny, sucking leafhoppers move up from the south each June on weather systems, and can cause severe leaf burn and yield reduction. Aphids can also be a production problem as well as carrying viral diseases that can affect potatoes grown from saved seed.
Most Recent Potatoes Content
Organic Production Guides
Robert Hadad, Extension Vegetable Specialist
Cornell Vegetable Program
Last Modified: July 17, 2017


Organic Production Guides for fruits, vegetables and dairy are available through the NYS Integrated Pest Management (IPM) program. They outline general practices for growing vegetable and fruit crops using organic integrated pest management techniques.
Potato Leaf Hopper Managment
Last Modified: June 14, 2017
2016 Conventional Potato Variety Trial Results
Anne Mills, Field Technician
Eastern New York Commercial Horticulture
Last Modified: January 26, 2017


View this slideshow for user friendly data and photos from the conventional potato variety trial held in Schoharie County, NY.
More Potatoes Content


Upcoming Events
Berry Crops Field Workshop
August 29, 2017
5pm-7pm
Stephentown, NY
These workshops are directed at the commercial berry grower.
Monitoring for pests, designing an effective pest control program, understanding cultural and chemical SWD management strategies and general troubleshooting will all be part of this workshop.
There will be plenty of time for questions and discussion.

Best Management Practices for High Tunnel Nutrition and Soil Health
September 13, 2017
5:00 PM - 6:30 PM
Poughkeepsie, NY
Soil tests, foliar tests, foliar feeds, fertigation, managing for yield...long term soil health in a high tunnel isn't a simple process. It can have a lot of components and require a fair amount of analysis. Cornell Cooperative Extension, partnering with NOFA-NY in a New York Farm Viability Institute funded project, have been working to identify long-term soil health and fertility best management practices. We will share what has been learned.

Announcements
Welcome Jim Meyers: New Viticulture Specialist!
Jim has been working with wine grapes for 10 years, first as a Viticulture Ph.D. student at Cornell then as a Research Associate. Prior to coming to Cornell, Jim studied Chemistry and Biology (B.S. West Chester University of Pennsylvania), Computer Science (M.S. Brown University), and had a successful career as software technology entrepreneur. This background is reflected in his viticultural research which has focused on computational tools for mapping canopy and vineyard variability, quantifying relationships between variability and fruit chemistry, and optimizing efficiency of vineyard operations. As an Extension Associate, Jim will continue some of these research activities while also looking for new projects that provide targeted benefits to appellations in Eastern New York. Jim will kick off his new appointment by visiting growers at their vineyards to gather first hand knowledge of the sites and to discuss vineyard operations, goals, and challenges. Building a complete catalog of vineyards in a territory that runs 300 miles along the Route 9 corridor may take a little while, but Jim feels that the effort will lay a solid foundation for future program activities while also clearly differentiating the needs of each appellation.
New Resources for Berry Crops
Berry Crop Diagnostics Tool
- Much information exists on controlling plant pests and problems, but one must first identify the cause before intervention can occur. This diagnostic tool was developed to assist the student, grower, and extension educator in identifying potential causes of plant problems in berry crops
Coming soon: New NEWA berry pest forecasting tools
White Rot Update
Earlier in June I sent a garlic sample to the diagnostic lab hoping that I was wrong. The sample was covered in small black sclerotia, the size of poppy seeds, and white fungal hyphae crept up the stem. The results, unfortunately, matched the field diagnosis: White Rot. Within a couple days additional calls came from up and down the Hudson Valley as well as one in Western NY with similar suspicions. These samples have also gone to the lab for verification, but it looks like the latest pest to move back into the state is this nasty fungus.

White Rot, Sclerotinia cepivorum, decimated the onion industry in New York in the 1930's before being eradicated through careful management. More recently, in 2003, it infected 10,000 acres of garlic in California, leading to the abandonment of some garlic fields and adoption of strict containment rules. White rot has been confirmed in Northeastern states over the last decade as well, with New York being one of the last to discover the disease.

The primary reason that White Rot is such a concern is because the sclerotia, or reproductive structures, can remain dormant in the soil for up to 40 years, attacking any allium crop planted into the soil under favorable conditions. This spring was ideal for infection due to the period of cool, moist weather we had. Optimal temperature for infection is 60-65 degrees F, but infection can occur anywhere from 50-75 degrees F.
Once garlic has white rot, it generally declines rapidly. Leaves will yellow and the plant will wilt, not unlike a severe fusarium infection. However, unlike with fusarium, white rot infected bulbs are covered in black sclerotia and white fungus. To add to the confusion, another disease CAN look similar. Botrytis also causes black sclerotia and white fungal growth. However, Botrytis sclerotia are quite large, often larger than a pencil eraser.

So, what do we do now? We're still working on long-term management strategies, but the most important steps to take now are vigilance when culling (look at the plants you are pulling for symptoms like you see in this article, and if they are present, call us to take a sample and have the disease verified) and, if you see anything suspicious, reduction of movement of inoculum. The main ways diseases get moved around are by dumping culls (compost, field edges, etc) and my moving soil on equipment. Throw away your culls, and wash equipment that may have come in contact with suspicious garlic or the soil it is growing in. Everything from cultivation equipment to harvest bins should be cleaned.

We will keep learning about this disease and will keep sending out information, particularly to help you make decisions about what to sell and buy. For now, remember that the west coast has learned to manage the disease, and we will too. -Crystal Stewart, ENYCHP

Eastern New York Commercial Horticulture - Cornell Cooperative Extension
Your Trusted Source for Research-Based Knowledge