Event Details
Date
October 3, 2017
Time
1:00pm- 4:45pm
Location
371 Big Island Road
Goshen, NY 10924
Cost
This event is free.
Host
Eastern New York Commercial Horticulture
Pre-Registration Deadline: October 2, 2017

EVENT HAS PASSED
Mechanical Cultivation Equipment Demo Day
October 3, 2017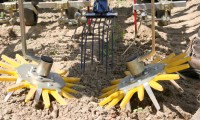 Come see the latest mechanical cultivation technology in action! A range of equipment will be showcased, including the first demonstration of a robotic cultivator in NY!
Demonstrations will include:
Garford Robocrop Camera Guided In-Row Weeder
Terrateck Cultitrack Equipment Carrier/Cultivating Tractor
KULT-Kress Steerable Argus Hoe and Duo
Willsie Hydraweeder
In addition to the demonstrations, Ethan Grundberg, ENYCHP and Dr. Bryan Brown, NYS IPM will review how mechanical cultivation fits into an overall Integrated Weed Management strategy. Brown will also describe some of his research on stacking cultivation tools to increase effectiveness.
Directions: From Pulaski Hwy, turn onto Big Island Rd, pass Cavallaro Farms, continue around the bend and over the bridge crossing Quaker Creek, then look for the signs on the right just past the red barn before reaching Round Hill Rd.
Contact Ethan Grundberg at eg572@cornell.edu or 617-455-1893 for more information
This is a FREE event, but please pre-register if you plan to attend. 1.25 DEC Credits will be available.
.

(PDF; 1065KB)