Chlorothalonil / Bravo Shortage
Chuck Bornt, Team Leader, Extension Vegetable Specialist
Eastern New York Commercial Horticulture
April 25, 2018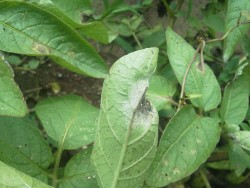 Did you hear about this shortage? Many of you that attended winter meetings probably were made aware that there will be a global shortage of fungicide chlorothalonil or what you may know more typically as Bravo and various other trade names. The shortage is due in part to the manufacturing facilities in China where this product is made have been shut down for various reasons. Chlorothalonil is a broad spectrum protectant used on many crops and also used commonly as a mixing partner with many of our other fungicides as a tool for resistance management.
What do I do? There are other protectants out there such as copper and mancozeb (active ingredient in Dithane, Manzate etc.) but their labels vary by crop and diseases compared to chlorothalonil products. We will do our best to note these differences during the season in the various vegetable crops that we cover in this newsletter and when in doubt, please call one of us to help. The last I heard, there was a little bit of "Bravo" or chlorothalonil containing products in the supply chain, but I can't be sure what's left. Keep in mind that there are a fair number of products (this is not a complete list) out there that are a combination of chlorothalonil and another fungicide such as Quadris Opti (the "Opti" portion indicating that it contains chlorothalonil), Catamaran (chlorothalonil plus potassium phosphite), Elixir (chlorothalonil plus mancozeb) and Ariston (chlorothalonil plus Curzate). However, please be sure to check the labels to make sure the product is labeled for the vegetable crop you are treating. Some of these pre-mixes are good options as they are probably products you would be adding to your tank mix with chlorothalonil anyway.
This article is from the April 26, 2018 edition of ENYCHP Vegetable News. To read the full newsletter, CLICK HERE.



Upcoming Events
Soil Health for Vegetable Growers Workshop

November 1, 2023
Essex, NY
Join us for presentations, discussions, and hands-on demonstrations focusing on soil health concepts and best management practices for vegetable growers. Topics include tarping, maintaining soil health in high tunnels, cover cropping, reduced tillage, compost microbiology, and more.
1.75 DEC pesticide recertification credits available in categories 1A, 10, and 23.
Announcements
Podcasts