Allium Leafminer Spring Flight Has Begun
Ethan Grundberg, Vegetable Specialist
Eastern New York Commercial Horticulture
May 3, 2018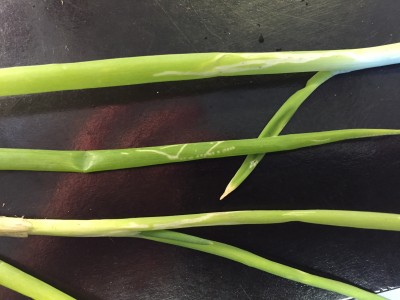 On Friday, April 27th, Teresa Rusinek confirmed the first signs of adult allium leafminer (ALM) activity on garlic in Ulster County. We anticipate adults will continue to mate and lay eggs on allium crops through the month of May. As the larvae feed on tissue inside of the leaf, they can cause considerable damage to crops like scallions and chives that are marketed with green tops. The physical damage caused by adult oviposition and larval feeding also opens wounds in the leaf tissue that can serve as entry points for other pathogens that cause botrytis leaf blight and soft rot.
We are conducting insecticide efficacy trials this year in conjunction with Cornell entomologist Dr. Brian Nault to better understand which active ingredients are most effective at reducing damage from ALM and also how many applications are necessary for acceptable ALM control. There are a number of insecticides labeled for leafminer control on bulb vegetables: the insect growth regulator cyromazine (Trigard), spinosyns (Radiant, Entrust (OMRI)), and several pyrethroids (Mustang Maxx, Warrior). Note that abamectin products (Agri-Mek), neonicotinoids (Assail, Admire Pro), and cyantraniliprole formulations (Exirel) are labeled ONLY for Liriomyza leafminers and/or thrips, but may be effective at managing ALM. Since allium species have a waxy leaf cuticle, it is highly recommended that insecticides be mixed with a compatible penetrating adjuvant (LI 700, M-Pede (OMRI), etc.) As always, follow the labeled directions for use for any pesticide.
This article is from the May 3, 2018 edition of ENYCHP Vegetable News. To read the full newsletter,CLICK HERE.


Upcoming Events
October Last Monday Grant Webinar for Fruit and Vegetable Growers
October 28, 2019
4:00 pm
Are you curious about what grants are available to help your farm business?
To help disseminate information on grants on a consistent basis, ENYCH is offering a "current grants" webinar on the last Monday of every month at 4:00pm
Each month's webinar focuses on 1 grant. The October webinar topic is TBD but might feature Ag Labor Housing Grants.
Produce Safety Alliance FSMA Grower Training Course
October 30, 2019
8am - 5pm
Canajoharie, NY
A grower training course developed by the Produce Safety Alliance (PSA) that meets the regulatory requirements of the Food Safety Modernization Act (FSMA) Produce Safety Rule. At least one person per farm producing more than $25,000 worth of fruits and vegetables must attend this course once. Participants will receive a certificate of course completion by the Association of Food and Drug Officials.
Tarping for Reduced Tillage Workshop
November 2 - November 19, 2019

Are you a vegetable farmer already using tarps? Or are you wondering if and how tarps could work best on your farm?

The Cornell Small Farms Program is excited to announce a series of workshops on tarping for reduced tillage in small-scale vegetable systems, to be held in Maine and New York this fall. The Reduced Tillage (RT) project of the Cornell Small Farms Program supports farmers in adopting scale-appropriate RT practices that can lead to healthy, productive soils and greater profitability. Through the evaluation of novel tools and methods using systems-based field research and on-farm trials, the project helps farmers learn about the approaches that can work for their farm. This work is accomplished in collaboration with the University of Maine, and with support from Northeast SARE.

Announcements
Podcasts