OMRI and Conventional Options for Flea Beetle Suppression
Ethan Grundberg, Vegetable Specialist
Eastern New York Commercial Horticulture
May 24, 2018
Crucifer flea beetles, Phyllotreta cruciferae Goeze, emerged abruptly with some warm weather in mid-May and have been causing damage on susceptible brassica crops. Most growers are all-too-familiar with this pest and have a few strategies to limit damage from flea beetles already in their toolbox. However, this generation of flea beetles will continue to be active through around mid-June, so it's worth revisiting a few of the other options available if your preferred method falls short this season.
Prevention: Young transplants and recently emerged direct seeded crops at the cotyledon stage are the most susceptible to damage. Rotating spring brassicas as far away from fields that had cole crops the previous fall can help reduce the pressure. Keeping field edges clean of mustard weeds can also reduce flea beetle populations that then migrate into production areas. On a smaller scale, insect netting or floating row cover can also be used, but must be secured at soil level before flea beetle emergence to prevent them from getting underneath and having a feast. Mustard cover crops, as shown in the image, can also be flea beetle magnets and should be carefully managed as far away from brassica cash crop fields as possible. Once flea beetles have reached a threshold of an average of 1 beetle per plant or 10% average leaf damage, it's time to consider chemical control options.
Conventional Options: There are a number of pyrethroid (IRAC Group 3A) insecticides labeled for flea beetles that provide quick knock downs of populations. A few of the labeled pyrethroids labeled for use in New York are Baythroid XL (beta-cyfluthrin), Brigade 2EC (bifenthrin), Warrior II with Zeon Technology (lambda-cyhalothrin), and Mustang MAXX (zeta-cypermethrin). Given that this generation of flea beetles will still be active for a few weeks, growers may want to consider pre-mix products of pyrethroids and neo-nicotinoids (IRAC Group 4A) that will provide longer residual control. Two common options are Leverage 2.7 (imidacloprid + cyfluthrir) and Endigo ZC (lambda-cyhalothrin + thiamethoxam). One other pre-mix product with longer residual than a straight pyrethroid and with less potential to hurt pollinators than the neo-nic mixes is Voliam Xpress. Voliam Xpress is a mix of lambda-cyhoalothrin and the IRAC Group 28 diamide insecticide chlorantraniliprole (same active ingredient in Exirel). The neo-nicotinoid Admire Pro (imidacloprid) is labeled as a foliar spray for flea beetles. Please note, soil applications of Admire Pro on brassicas are only labeled for aphid, leafhopper, thrip, and white fly control, NOT for flea beetles. In a 2015 field trial conducted in Virginia, Brigade provided the best level of flea beetle suppression when compared to Admire Pro and Exirel.
Organic Options: Like with the conventional options, there are a number of OMRI options labeled for flea beetle suppression. However, in field trials both at UMass and New York State IPM, few provided a statistically significant reduction in flea beetle pressure over untreated controls. Spinosad products, like Entrust, have generally shown the highest efficacy and can be mixed with OMRI-approved spreader-stickers to improve performance. A trial in Maryland from 2011 showed good performance from Azera, a pre-mix of azadirachtin and pyrethrins (IRAC Group 3A), especially when mixed with Surround WP (kaolin clay). Finally, a 2013 trial in New York found that both Grandevo (Chromobacterium subtsugae strain PRAA4-1T and spent fermentation media) and Venerate (Heat-killed Burkholderia spp. strain A396 cells and spent fermentation media) reduced flea beetle damage on cabbage under low pressure.
This article was printed in the May 24th, 2018 issue of ENYCHP Veg News. To view the full newsletter, click here.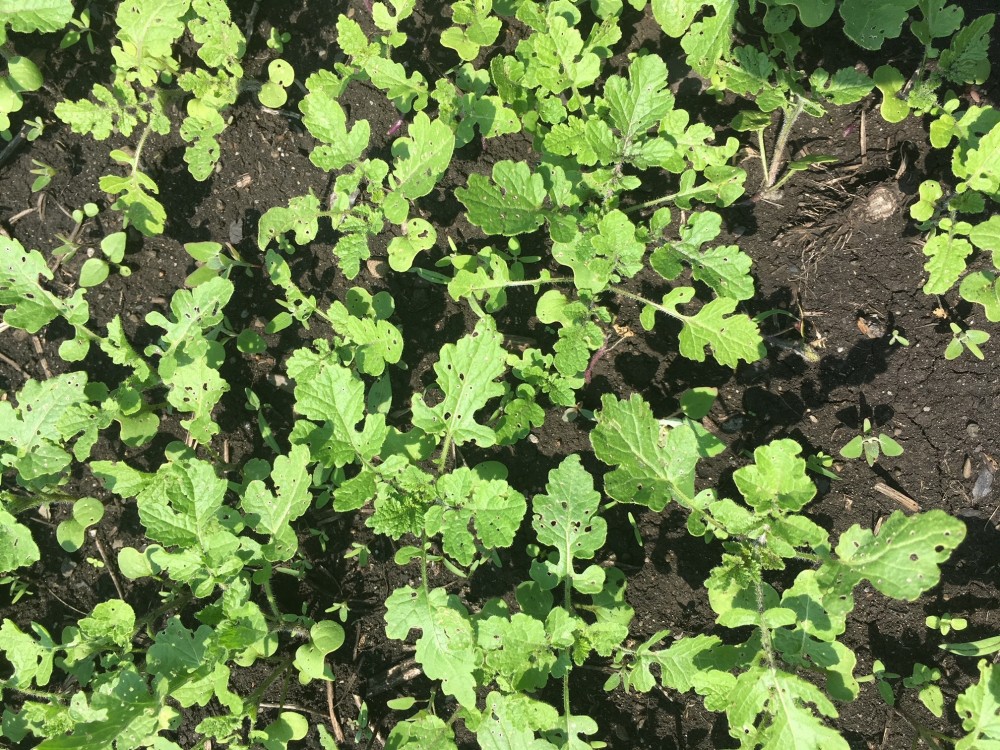 Upcoming Events
Soil Health for Vegetable Growers Workshop

November 1, 2023
Essex, NY
Join us for presentations, discussions, and hands-on demonstrations focusing on soil health concepts and best management practices for vegetable growers. Topics include tarping, maintaining soil health in high tunnels, cover cropping, reduced tillage, compost microbiology, and more.
1.75 DEC pesticide recertification credits available in categories 1A, 10, and 23.
Announcements
Podcasts