2019 Sweet Potato Variety, Slip Production, Slip Size Trials
Chuck Bornt, Team Leader, Extension Vegetable Specialist
Eastern New York Commercial Horticulture
January 24, 2020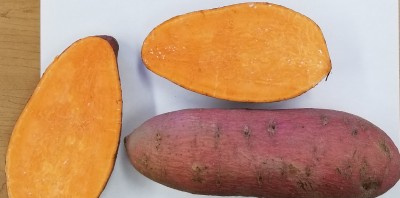 Reports, charts, results and information from our 2019 sweet potato trials which included a variety trial, a slip production trial and a slip grading trial. These documents are in pdfs.
Orange County Sweet Potato Yield Data 2019 (pdf; 1827KB)
Columbia County Sweet Potato Yield Data 2019 (pdf; 2736KB)
Sweet Potato Trial 2019 Overview and Pictures (pdf; 12356KB)


Upcoming Events
Soil Health for Vegetable Growers Workshop

November 1, 2023
Essex, NY
Join us for presentations, discussions, and hands-on demonstrations focusing on soil health concepts and best management practices for vegetable growers. Topics include tarping, maintaining soil health in high tunnels, cover cropping, reduced tillage, compost microbiology, and more.
1.75 DEC pesticide recertification credits available in categories 1A, 10, and 23.
Announcements
Podcasts