Feasibility of Reducing Slug Damage in Cabbage
Christy Hoepting, Extension Vegetable Specialist
Cornell Vegetable Program
Last Modified: March 17, 2014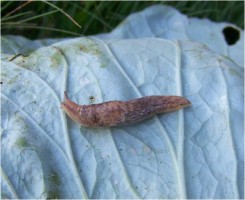 Slugs are an increasing threat to cabbage production: The board of the New York Cabbage Research and Development Program made slug control one of their highest research priorities for the first time in 2009. Slugs are considered a sporadic pest in cabbage and are favored by cool and moist conditions, especially where crop residues are left on the soil surface. In conventional production of cabbage, slugs tend to be a problem later in the growing season along tree lines and hedgerows and in weedy patches within the field. Slugs leave large holes in the leaves with the veins intact, and can be a contaminant in the heads when they squeeze between the leaves. During the cool wet growing season of 2009, slug contaminants were the cause of several rejected loads of cabbage in New York. It is predicted that the frequency of slug problems in cabbage will increase, because more cabbage is being grown in rotation following field corn. The newer varieties of field corn are Bt-tolerant and have tougher stalks that take longer to break down, thus, these fields have more crop residue and are more favorable for slugs. It is worthwhile to investigate whether there are cost effective means for growers to manage sporadic infestations of slugs in cabbage.
View the exciting results from our 2010 trial in the final report that follows.
Feasibility of Reducing Slug Damage in Cabbage: Final Report 2010 (pdf; 2168KB)


Upcoming Events
Introduction to Winter Growing Webinar
January 2, 2020
Join vegetable specialists Elisabeth Hodgdon (ENYCHP) and Judson Reid (Cornell Vegetable Program) for a webinar on winter vegetable production in high tunnels.
Apple IPM :: Basics for Orchard Employees
January 10, 2020
Ballston Spa, NY
Have farm employees that need recertification credits? We will be covering the basics of integrated pest management, including how to monitor traps, evaluate insect thresholds, and use prediction models to better manage common orchard pests of Northern New York. We will also discuss IPM tactics for managing apple scab, fire blight, obliquebanded leafroller, apple maggot, and some common weeds in the orchard.
Produce Safety Alliance Grower Training Course

February 25, 2020
Albany, NY
A grower training course developed by the Produce Safety Alliance (PSA) that meets the regulatory requirements of the Food Safety Modernization Act (FSMA) Produce Safety Rule. At least one person per farm producing more than $25,000 worth of fruits and vegetables must attend this course once. Participants will receive a certificate of course completion by the Association of Food and Drug Officials.
Announcements
Podcasts