Event Details
Date
August 19, 2019
Time
10am - 12pm
Location
American Legion Hall
9509 Route 9
Chazy, NY 12921
Cost
This event is free.
Host
Eastern New York Commercial Horticulture
Pre-Registration Deadline: August 18, 2019

EVENT HAS PASSED
Utilizing UAV's (Drones) on Eastern NY Farms
August 19, 2019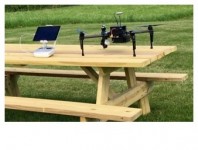 ENYCHP specialists Jim Meyers and Mike Basedow will be hosting a demonstration and discussion of the use of low-cost unmanned aerial vehicles (drones) in crop management. In the first portion, Jim will discuss the basics of drone operation and uses including:
• Selecting a drone
• Federal regulations for operating
• Obtaining a pilot license
• Using automated flight control software for field mapping
• Uses of images for scouting
• Uses of 3D modeling for canopy measurements
• Uses of specialized cameras for mapping variability and plant health
Weather permitting, we will move to the orchard for the second half of our meeting for a live demonstration flight. Jim will be mapping orchard variability using his quad-copter drone, equipped with a Normalized Difference Vegetation Index (NDVI) camera. As Jim demonstrates the flight procedure, Mike will briefly discuss how we intend to utilize the imagery to develop future scouting protocols. Other forms of innovative farm tech will also be discussed. While orchard focused, we will discuss applications across agricultural commodities, and all farms are welcome!
Drone event flyer (PDF; 781KB)