Event Details
Date
November 11, 2019
Time
M 6:00pm - 7:30pm
Location
Burley's Berries and Blooms
6335 Route 20A East
Warsaw, NY 14569
Cost
This event is free.
Host
CCE Erie County and CCE Cornell Vegetable Program
Elizabeth Buck
585-406-3419
email Elizabeth Buck
CANCELED: Women in Agriculture (WAVES) Discussion Group: Auxiliary Farm Income
November 11, 2019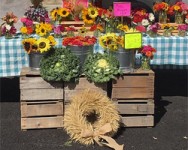 Due to the inclement weather, we have had to cancel tonight's discussion group meeting. Stay warm out there! CVP will repost the event if we are able to reschedule for a different date - check back soon!

The final Women in Agriculture (WAVES) meeting, focused on auxiliary farm income, will be held November 11, 2019 from 6:00-7:30pm at Burley's Berries and Blooms in Warsaw.
Our host, Megan Burley, runs a creative and diversified farm that uses the existing farm infrastructure and landscape assets to augment her business's primary strawberry and cut flower income. Megan will teach participants how to use farm products to craft unique, value added fall and winter wreaths to extend your marketing season and supplement your farm product offerings. Megan can also discuss how social media helps promote her auxiliary farm products to a broader audience.
Additionally, we will be discussing Christmas Tree Production as an alternative use of farmland. Katherine Humphrey of All Western Evergreen Nursery and Christmas Tree Farm in Springwater, NY will be present to discuss Christmas tree/tree production. All Western Evergreen Nursery and Christmas Tree Farm's mission is to provide jobs for youth, produce high quality trees, preserve the environment and protect the farm way of life. Katherine's family also participates in the Trees for Troops program. As we meet on Veteran's Day, Katherine will share more about this opportunity for Christmas tree growers to give to those who serve in the military.
For more information, or to pre-register contact Jolie Hibit at (716) 652-5400 ext 176 or
email Jolie
. Accommodations for persons with special needs may be requested by contacting Jolie Hibit at least 5 days prior to the event.