Navigating Solar Lease Agreements and the Solar Development Process: A Program for NY Farmers and Rural Landowners
---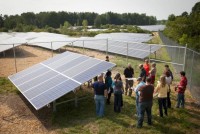 Navigating Solar Lease Agreements and the Solar Development Process: A Program for NY Farmers and Rural Landowners on October 26th is a collaboration between county level CCE staff and the statewide Farm Business Management group. The Farm Business Management group is organizing live presentations from expert speakers via Zoom and many counties are facilitating in-person meetings on local solar issues.
Schedule
Webinar 1 (9:30-11:30)
9:30-10:15am: Understanding the Solar Development Process and What Solar Companies are Looking For. Presented by Loren Pruskowski, Owner, Ecolegacy Values. Loren is also the general contractor installing a solar array on his Guilderland, New York farm.
10:15-11:00am: Understanding Solar Lease Agreements and Tips for Negotiating a Contract. Presented by Scott Kurkoski, Assistant Managing Partner, Levene, Gouldin & Thompson, LLP. Scott got his start representing landowners in the fracking industry and has spent years assisting farmers and rural landowners in negotiating contracts with Solar companies.
11:00-11:30am: Q&A with Morning Presenters
Break (11:30-12:30)
11:30am-12:30pm: The program for this time will vary by county.
Webinar 2 (12:30-1:30)
12:30-1:30pm: How Municipal Regulations Affect Solar Development Opportunities at the Local Level. Presented by Jeffrey Kehoe, NYS Department of Ag and Markets. Learn how local communities can best prepare for managing the huge influx of solar company demand for land.
Local Program (1:30-?)
The afternoon program will vary by county office.
You can register for the program through the following participating CCE County Offices: Albany, Broome, Cayuga, Columbia, Cortland, Delaware, Dutchess, Erie, Essex, Fulton, Genesee, Greene, Herkimer, Madison, Montgomery, Onondaga, Ontario, Otsego, Renssalear, Saratoga, Schoharie, Senaca, St Lawrence, Suffolk, Tioga, Tompkins, Ulster, Washington, Wayne, Wyoming, Yates. Don't know the website address for your county office? Go to: https://cals.cornell.edu/cornell-cooperative-extension/local-offices.


Upcoming Events
Soil Health for Vegetable Growers Workshop

November 1, 2023
Essex, NY
Join us for presentations, discussions, and hands-on demonstrations focusing on soil health concepts and best management practices for vegetable growers. Topics include tarping, maintaining soil health in high tunnels, cover cropping, reduced tillage, compost microbiology, and more.
1.75 DEC pesticide recertification credits available in categories 1A, 10, and 23.
Announcements
Podcasts