Navigating Solar Lease Agreements and the Solar Development Process: A Program for NY Farmers and Rural Landowners
---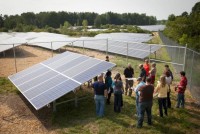 Navigating Solar Lease Agreements and the Solar Development Process: A Program for NY Farmers and Rural Landowners on October 26th is a collaboration between county level CCE staff and the statewide Farm Business Management group. The Farm Business Management group is organizing live presentations from expert speakers via Zoom and many counties are facilitating in-person meetings on local solar issues.
Schedule
Webinar 1 (9:30-11:30)
9:30-10:15am: Understanding the Solar Development Process and What Solar Companies are Looking For. Presented by Loren Pruskowski, Owner, Ecolegacy Values. Loren is also the general contractor installing a solar array on his Guilderland, New York farm.
10:15-11:00am: Understanding Solar Lease Agreements and Tips for Negotiating a Contract. Presented by Scott Kurkoski, Assistant Managing Partner, Levene, Gouldin & Thompson, LLP. Scott got his start representing landowners in the fracking industry and has spent years assisting farmers and rural landowners in negotiating contracts with Solar companies.
11:00-11:30am: Q&A with Morning Presenters
Break (11:30-12:30)
11:30am-12:30pm: The program for this time will vary by county.
Webinar 2 (12:30-1:30)
12:30-1:30pm: How Municipal Regulations Affect Solar Development Opportunities at the Local Level. Presented by Jeffrey Kehoe, NYS Department of Ag and Markets. Learn how local communities can best prepare for managing the huge influx of solar company demand for land.
Local Program (1:30-?)
The afternoon program will vary by county office.
You can register for the program through the following participating CCE County Offices: Albany, Broome, Cayuga, Columbia, Cortland, Delaware, Dutchess, Erie, Essex, Fulton, Genesee, Greene, Herkimer, Madison, Montgomery, Onondaga, Ontario, Otsego, Renssalear, Saratoga, Schoharie, Senaca, St Lawrence, Suffolk, Tioga, Tompkins, Ulster, Washington, Wayne, Wyoming, Yates. Don't know the website address for your county office? Go to: https://cals.cornell.edu/cornell-cooperative-extension/local-offices.


Upcoming Events
Farm Financial Management Tuesdays - Planning for a Change or Exiting Your Farm Business
November 30, 2021 : Assessing the Financial Ramifications of and Options for Significant Change to Your Farm Business
The inflationary economy is upon us! The huge influx of money into the US economy following the COVID-19 pandemic has manufactured high prices and in turn increased operating costs for farm business thus forcing many businesses into net operating loss situations. Other farms are facing high labor costs or chronic labor shortages. Some farms have taken on debt loads that make these increased costs unaffordable. Depending on the stage in the business lifecycle, it may make sense to change enterprises or exit the farming business entirely.
Join CCE ENYCH Ag Business Educator, Elizabeth Higgins, and CAAHP Ag Business Educator, Dayton Maxwell, for a one-hour program to learn about the financial aspects of changing or exiting a farm business.
December 7, 2021 : The Family and Emotional Component; Shifting Business Direction and Life After Farming
As farm business enterprises are changed or disbanded, the emotional stress can be tremendous, especially when individuals and family members maintain diminished assurance relative to future security.
Join Gabriel Gurley and Brenda O'Brien of New York FarmNet for a one-hour program focused on successfully navigating the emotional turmoil of a family farm business transition.
December 14, 2021 : New Venture Creation; Shifting Business Direction and Life After Farming
Change creates opportunity and new opportunities are certain when farm businesses change or end.
Join Gabriel Gurley of New York FarmNet for a one-hour overview of identifying ways and means to capitalize on new opportunities resulting from farm business transitions.
Remote Produce Safety Alliance Grower Training Course - Dec 2021
December 8 - December 9, 2021
A grower training course developed by the Produce Safety Alliance (PSA) that meets the regulatory requirements of the Food Safety Modernization Act (FSMA) for farms subject to the Produce Safety Rule. All farms are welcome to attend to learn about recommended food safety practices for growing, handling, and storing fresh produce. Course registration fee includes a course manual and certificate of course completion by the Association of Food and Drug Officials (AFDO).

Tax Management for Beginning and Small Farm Businesses
January 18, 2022
Tax Management for Beginning and Small Farm Businesses.
A one-night virtual meeting for beginning and part-time farmers that provides useful tax information enabling participants to be make better tax decisions for their business. Federal and state income taxes will be covered. Tax regulations specific to NYS will be covered as well.
Announcements
Podcasts