Event Details
Date
June 22, 2016
Time
4:00pm
Location
Christopher Jacobs Winery
326 Crawford st
Pine Bush, NY 12566
Cost
This event is free.
Host
Eastern New York Commercial Horticulture
Haskap Berry Project & General Berry Site Selection Workshop
June 22, 2016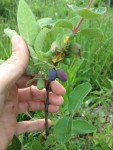 Come join Jim O'Connell and Laura McDermott of the Cornell Cooperative Extension Eastern NY Berry Team at Christopher Jacobs Winery at Pennings Vineyards, on June 22, 2016, where they will present the preliminary results from the Haskap berry trial.

Chris and Monica Pennings, owners of Christopher Jacobs Winery at Pennings Vineyards was one of four sites selected for this trial. Plants were evaluated for how well they grow in Hudson Valley conditions, including their winter hardiness. Although there are no fruit available to sample, growers can come learn about some of the history of Haskaps, some of the health benefits associated with this fruit, and how the plants have responded thus far to Hudson Valley growing conditions.

In addition to learning about Haskaps, growers will also learn about general site selection for berry crops. While Monica and Chris Pennings grow mostly grapes, they have expressed interested in expanding into berry crops.