Event Details
Date
July 12, 2017
Time
5:00-7:00pm
Location
Slack Hollow Farm
177 Gilchrist Road
Arygle, NY 12809
Host
Eastern New York Commercial Horticulture
High Tunnel Field Meeting
July 12, 2017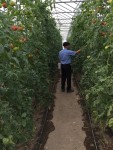 Join us for a discussion of ongoing high tunnel fertility management for summer tomato crops, high tunnel soil health, as well as other summer high tunnel crop options including cucumbers and basil.

In addition there will be an update on leek moth in allium crops, a discussion of downy mildew in basil, and a
demonstration of an in-row flame weeder.

Speakers include:
Judson Reid, CVP
Andy Fellenz, NOFA-NY
Amy Ivy, ENYCHP
Cost: $12/person, $25/farm (two people or more)

Light refreshments will be provided. Pre-registration is encouraged at https://www.nofany.org/events-news/events/2017-on-farm-field-days.

High Tunnel Meeting (PDF; 1569KB)