Event Details
Date
October 12, 2017
Time
9:30am-2:30pm
Location
Schoharie Valley Farms
495 N. Main Street
Schoharie, NY 12157
Cost
$10.00
(additional attendee $10.00 ea.)


Host
Eastern New York Commercial Horticulture
Pre-Registration Deadline: October 10, 2017

EVENT HAS PASSED
Cover Crop and Soil Health Field Day
October 12, 2017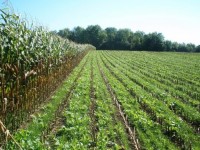 Join us for a day of cover crop and soil health including, presentations, field tours, and a farmer panel! This field day is presented by USDA-NRCS, Cornell Cooperative Extension ENYCHP, SARE & SUNY Cobleskill.
Topics to include:


Introduction to Cornell's New Soil Health Initiative.
D
avid Wolfe, Professor of Plant and Soil Ecology in the School of Integrative Plant Science, Cornell

Understanding Soil Health, Soil Health Demos
Aaron Ristow, Cornell
Soil Health Field Evaluation and test pit
Olga Vargas, NRCS
"Life Underground?": A discussion of beneficial soil-dwelling invertebrates Carmen Greenwood,
SUNY Cobleskill
Cover Crop Selection and Management
Thomas Bjorkman, Cornell
Twenty Different Cover Crop Species and Mixes Demonstration Plots
Paul Salon, NRCS
Seven Inter-seeding demonstration plots
John Wallace, Cornell
Farmer Panel - TBA
For More Information Please Contact: Chuck Bornt, CCE ENYCHP: 518-859-6213
$ 10 program fee includes lunch.
Cover Crops Field Day Announcement (PDF; 1850KB)
Soil Health Initiative Handout (PDF; 1658KB)