Event Details
Date
July 31, 2018
Time
9:00am - 3:00pm
Location
Cornell Willsboro Research Farm
48 Sayward Lane
Willsboro, NY 12996
Cost
This event is free.
Host
Eastern New York Commercial Horticulture
Reduced Tillage in Organic Systems Field Day
July 31, 2018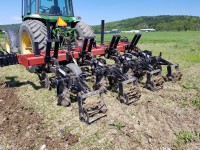 Featuring in-field demonstrations of equipment and discussions with speakers and growers. Rotate between 3 demonstration/discussion stations in the morning, 3 more in the afternoon.
Topics include: roller-crimping, zone tillage in high residue, in-row cultivation tools, stale seedbed and weed seed bank management strategies with an overall focus on soil health.
DEC recertification credits available: 1.5 for the morning, 1.5 for the afternoon

Tuesday, July 31st 9:00amó3:00pm
(Speakers will stay until 4:00 to continue
discussion as needed)
Cornell Willsboro Research Farm
48 Sayward Lane
Willsboro, NY 12996
Free to the Public, Lunch included!
First 50 attendees will receive a program resource booklet, (also available online after the event)
Questions? Contact Amy Ivy, adi2@cornell.edu 518-570-5991 or
Carly Summers, cfs82@cornell.edu 518-962-4810 x409
Coordinated by the Eastern NY Commercial Horticulture Program,
CCE Essex County and the Cornell Willsboro Research Farm
with funding from NY State Soil Health Initiative &
Lake Champlain Basin Program , Northern NY Ag Development Program
Reduced Tillage Flyer (PDF; 532KB)