Event Details
Date
August 22, 2018
Time
5-7pm
Location
Gardenworks Farm
1055 County Rte 30
Salem, NY 12865
Cost
This event is free.
Host
Eastern New York Commercial Horticulture
Pre-Registration Deadline: August 22, 2018

EVENT HAS PASSED
Berry Field Meeting: Using Hummingbirds to Help Control SWD
August 22, 2018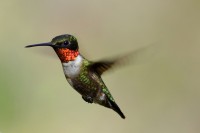 Biological and Cultural controls of SWD are possible. Come learn about ongoing research into encouraging hummingbird predation on SWD adults. Dr. Juliet Carroll of NYS IPM will also discuss new research into better thresholds for monitoring SWD and how those thresholds will more accurately inform spray decisions. Managing crop canopy and weeds are also critical for SWD control.

If you don't want to spray we will have current information on exclusion netting work.
DEC Credits Pending. Sponsored by CCE ENYCHP and NYS IPM