Modern Stone Fruit Training Systems Webinar
---
Event Details
Date
March 16, 2021
Time
11:00am-1:00pm
Cost
Registration : $20.00
(addl attendee $20.00 ea.)
Host
Eastern New York Commercial Horticulture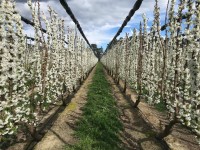 While yields of stone fruits planted to traditional orchard systems have been lagging behind our modern apple plantings in the northeast, research is actively being conducted to utilize improved rootstocks and modern, narrow training systems to increase productivity and reduce labor costs in peach and cherry systems.
In this webinar, we will be joined by Dr. Jim Schupp, Dr. Greg Lang, and Dr. Terence Robinson, as they review modern strategies for growing peaches and cherries in the northeast.
Agenda:
11:00am: Welcome and Introductions - Mike Basedow - Cornell ENYCHP
11:05 - 11:40: Future Directions for Peach Training Systems - Dr. Jim Schupp - Penn State's Fruit Research and Extension Center
Peaches are a labor-intensive crop, but peach yields per acre lag those of other fruit crops. Gains in orchard productivity and production efficiency are needed if peaches are to remain an important part of a fruit grower's portfolio. Intensive peach systems warrant our attention, as we search for more labor efficient methods of growing fruit, and for systems that can readily adapt to mechanization and automation. This presentation provides an update on two recent studies to evaluate tree density and rootstocks in high density peach systems.
11:40 - 12:15: The Evolution of Sweet Cherry Production Systems - Dr. Greg Lang - Michigan State University
Sweet cherry canopy architectures and training systems for fresh market production have evolved over the past two decades, accelerated by the advent of vigor-controlling and precocity-inducing rootstocks. Training systems are dynamic and continuously evolving, as every grower and orchard site is different, with inherent traits that lead to subtle modifications of initial ideas and training concepts that can significantly affect their ultimate degree of success. It is important for growers to understand their orchard vigor factors, target markets, the fundamental aspects of sweet cherry growth and fruiting, and how the techniques used in different training systems affect those fundamentals.
12:15 - 12:50: New Rootstocks and Training Systems for Peaches and Cherries, Plums and Apricots in the Northeast - Dr. Terence Robinson - Cornell University
Dr. Robinson will discuss improved rootstocks for peach that can be combined with closer tree spacings to achieve greater productivity in northeast orchards. On the cherry side he will also discuss new rootstocks and how they can be combined with closer spacings, and will provide management recommendations to achieve early and sustained production.
12:50 - 1:10: Grower Comments, Q & A, Final Wrap-Up


Upcoming Events
Apple Grower Listening Session - USDA RMA Crop Insurance
June 28, 2023
Highland, NY
The Risk Management Agency (RMA) is inviting interested parties to participate in a listening session to discuss the proposed changes to the apple crop insurance program. These proposed changes were published in a Proposed Rule with request for comments on December 16, 2021.
RMA invited public comments on this rule through April 15, 2022. RMA received comments to the Proposed Rule from approximately 200 interested parties. RMA is taking this opportunity to engage with interested parties to clarify the intent of the Proposed Rule before finalizing changes.
Small Fruit Opportunities for Small Farms

July 11, 2023
Willsboro, NY
$10 per farm
Pre register by Monday, July 10th at 9 am
Join us for a field afternoon at the Cornell Willsboro Research Farm and Juniper Hill Farm in Essex County to learn about growing small fruit crops in northern New York. We'll discuss considerations for site selection, varieties, pruning, integrated pest management, marketing, and more. In addition to strawberries, blueberries, and raspberries, we'll cover novelty small fruits and nuts for specialty markets and hear from local producers who grow them.
1.75 DEC credits approved in categories 1A, 10, and 22
Rain date: This event will be held at the same time on Thursday, July 13th if thunderstorms and/or significant rain are predicted on the 11th
Announcements
Podcasts