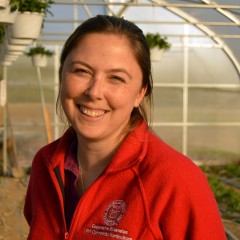 Crystal Stewart
Extension Vegetable Specialist
134 Miller Road
Johnstown, NY 12095
cell 518-775-0018
email Crystal
Areas of Interest
Small and Beginning Farms, Organic Production Systems, Garlic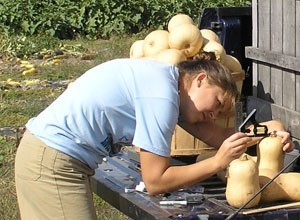 Background

Crystal Stewart has long been interested in commercial and consumer horticulture. She completed both her bachelor and master degrees at the University of Wisconsin. During her studies, she worked in the Department of Horticulture as a Graduate Teaching Assistant and as a Research Associate. After graduating, Crystal became a Regional Extension Educator with the South Dakota State University Cooperative Extension providing horticulture support. She joined Cornell Cooperative Extension in 2007 as the horticulture and agriculture educator in Fulton and Montgomery Counties. Today, Crystal's areas of emphasis include organic horticulture, small and beginning farmers assistance, and basic farm business management.


Upcoming Events
Ag Manager Webinar Series: Understanding Financial Statements 1 (Balance Sheets)
July 2, 2019
12:30 - 12:50pm
Join Liz Higgins from the CCE ENYCHP every other Tuesday at 12:30pm throughout the summer as she discusses pertinent business topics for busy farm managers.
Pesticide Exam Certification Summer Trainings
July 2 - July 23, 2019
1:30pm - 4:30pm each day
Plattsburgh, NY
2019 Champlain Valley Pesticide Applicator Exam Intensive Training
CCE ENYCHP Horticulture Specialists Mike Basedow and Elisabeth Hodgdon will be offering four afternoons of training to review core concepts and commodity specific items in preparation for the exam.
FSMA/PSA Food Grower Training Course
July 15, 2019
8:00am - 5:30pm
Warrensburg, NY
A grower training course developed by the Produce Safety Alliance (PSA) that meets the regulatory requirements of the Food Safety Modernization Act (FSMA) Produce Safety Rule. At least one person per farm producing more than $25,000 worth of fruits and vegetables must attend this course once. Participants will receive a certificate of course completion from the Association of Food and Drug Officials.
Announcements
Podcasts