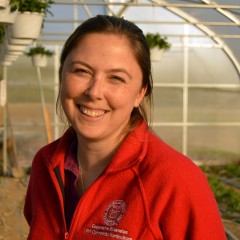 Crystal Stewart-Courtens
Extension Vegetable Specialist
134 Miller Road
Johnstown, NY 12095
cell 518-775-0018
email Crystal
Areas of Interest
Small and Beginning Farms, Organic Production Systems, Garlic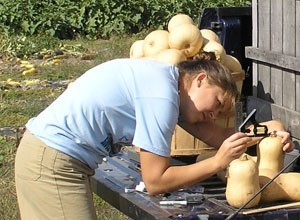 Background

Crystal Stewart-Courtens has long been interested in commercial and consumer horticulture. She completed both her bachelor and master degrees at the University of Wisconsin. During her studies, she worked in the Department of Horticulture as a Graduate Teaching Assistant and as a Research Associate. After graduating, Crystal became a Regional Extension Educator with the South Dakota State University Cooperative Extension providing horticulture support. She joined Cornell Cooperative Extension in 2007 as the horticulture and agriculture educator in Fulton and Montgomery Counties. Today, Crystal's areas of emphasis include organic horticulture, small and beginning farmers assistance, and basic farm business management.


Upcoming Events
2020 Fall Round Up: Fall Management for Your Livestock, Pasture, and Business
October 29, 2020
Join Cornell Cooperative Extension Educators Ashley Pierce, Aaron Gabriel, and Dayton Maxwell. This dynamic and slightly humorous group will discuss strategies for overwintering pastures in combination with management guidelines for helping livestock enter the winter season with adequate body condition. Farm visioning, mission development, and farm goal setting will conclude the one-hour program.
2021 Fruit & Vegetable Conference
February 16 - February 18, 2021
The Eastern NY Fruit & Vegetable Conference, normally held at The Desmond Hotel in Albany, will be going virtual 2021. The ENYCH team will try to coordinate with other regional fruit and vegetable teams from across the state to offer a larger statewide virtual meeting. These are tentative dates for now. Additional information will be continued to be shared as it becomes available.
Announcements
Podcasts