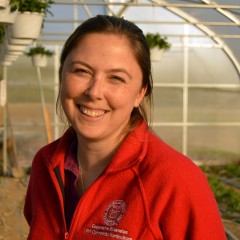 Crystal Stewart-Courtens
Extension Vegetable Specialist
134 Miller Road
Johnstown, NY 12095
cell 518-775-0018
email Crystal
Areas of Interest
Small and Beginning Farms, Organic Production Systems, Garlic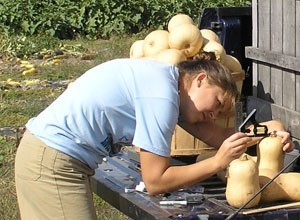 Background

Crystal Stewart-Courtens has long been interested in commercial and consumer horticulture. She completed both her bachelor and master degrees at the University of Wisconsin. During her studies, she worked in the Department of Horticulture as a Graduate Teaching Assistant and as a Research Associate. After graduating, Crystal became a Regional Extension Educator with the South Dakota State University Cooperative Extension providing horticulture support. She joined Cornell Cooperative Extension in 2007 as the horticulture and agriculture educator in Fulton and Montgomery Counties. Today, Crystal's areas of emphasis include organic horticulture, small and beginning farmers assistance, and basic farm business management.


Upcoming Events
Bloom Thinning with the Pollen Tube Growth Model
March 31, 2020
Join us via webinar to learn about bloom thinning with the pollen tube growth model. We will hear from Dr. Greg Peck, Assistant Professor of Horticulture at Cornell University in Ithaca.
*CANCELLED* Cleaning, Sanitizing, and Hygienic Design Workshop
April 15, 2020
Troy, NY
**This event has been CANCELLED**The Institute for Food Safety at Cornell University, the University of Vermont and CCE Eastern NY Commercial Horticulture are hosting a workshop on Cleaning, Sanitizing and Hygienic Design. This one-day workshop will include: A brief review of produce safetyPresentations focused on cleaning, sanitizing and drying best practicesAn introduction to hygienic design principlesSeveral hands on exercises to reinforce cleaning, sanitizing and hygienic design concepts
Announcements
Podcasts