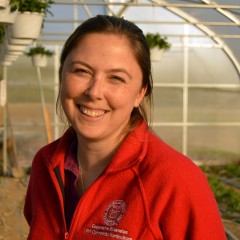 Crystal Stewart-Courtens
Extension Vegetable Specialist
134 Miller Road
Johnstown, NY 12095
cell 518-775-0018
email Crystal
Areas of Interest
Small and Beginning Farms, Organic Production Systems, Garlic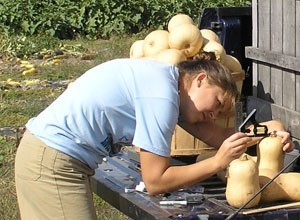 Background

Crystal Stewart-Courtens has long been interested in commercial and consumer horticulture. She completed both her bachelor and master degrees at the University of Wisconsin. During her studies, she worked in the Department of Horticulture as a Graduate Teaching Assistant and as a Research Associate. After graduating, Crystal became a Regional Extension Educator with the South Dakota State University Cooperative Extension providing horticulture support. She joined Cornell Cooperative Extension in 2007 as the horticulture and agriculture educator in Fulton and Montgomery Counties. Today, Crystal's areas of emphasis include organic horticulture, small and beginning farmers assistance, and basic farm business management.


Upcoming Events
Cleaning & Sanitizing on Produce Farms
March 11, 2021
The Institute for Food Safety at Cornell University, UVM Extension Ag Engineering, and CCE Orange County, CCE Dutchess County, and CCE ENYCHP are hosting a workshop on Cleaning and Sanitizing on Produce Farms and in Packing Facilities. This remote 3.5 hour webinar will provide:
A brief review of microbial risks in produce farms and packing facilities
Conducting a Sanitation Operational Assessment
Presentations focused on the: o Basics of wet and dry cleaning and sanitizing o Value and importance of sanitation SOPs
A hands-on exercise writing a sanitation SOP
Modern Stone Fruit Training Systems Webinar
March 16, 2021
While yields of stone fruits planted to traditional orchard systems have been lagging behind our modern apple plantings in the northeast, research is actively being conducted to utilize improved rootstocks and modern, narrow training systems to increase productivity and reduce labor costs in peach and cherry systems.
In this webinar, we will be joined by Dr. Jim Schupp, Dr. Greg Lang, and Dr. Terence Robinson, as they discuss improved strategies for growing peaches and cherries in the northeast.
How to Obtain a Pesticide Applicator License - March 23
March 23, 2021
Thinking about becoming a certified pesticide applicator in New York? This online program will cover the basics of who needs a pesticide license, license types, examination procedures, and important information to know for the test. We will incorporate interactive practice questions and activities within the program to test participant knowledge in preparation for the exam.
Announcements
Podcasts