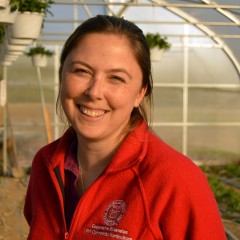 Crystal Stewart-Courtens
Extension Vegetable Specialist
134 Miller Road
Johnstown, NY 12095
cell 518-775-0018
email Crystal
Areas of Interest
Small and Beginning Farms, Organic Production Systems, Garlic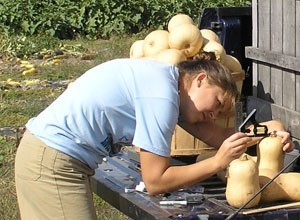 Background

Crystal Stewart-Courtens has long been interested in commercial and consumer horticulture. She completed both her bachelor and master degrees at the University of Wisconsin. During her studies, she worked in the Department of Horticulture as a Graduate Teaching Assistant and as a Research Associate. After graduating, Crystal became a Regional Extension Educator with the South Dakota State University Cooperative Extension providing horticulture support. She joined Cornell Cooperative Extension in 2007 as the horticulture and agriculture educator in Fulton and Montgomery Counties. Today, Crystal's areas of emphasis include organic horticulture, small and beginning farmers assistance, and basic farm business management.


Upcoming Events
High Tech Precision Orchard Spraying
July 20, 2020
Join us the afternoon of July 20th to learn what's new in orchard precision spraying technology. We'll be joined by Dr. Jason Deveau, Dr. Heping Zhu, and Steve Booher. After their presentations, we will open up the meeting for all three presenters to field questions and comments.
Announcements
Podcasts