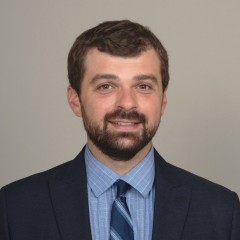 Ethan Grundberg
Vegetable Specialist
CCE Orange County
18 Seward Ave, Suite 300
Middletown, NY 10940
phone 845-344-1234
cell 617-455-1893
email Ethan
Areas of Interest
Organic Production Systems, Small Farm Equipment, IPM, Cover Crops
Ethan Grundberg grew up in eastern Iowa. After graduating from college he spent a year working in the northern coffee-growing region of Nicaragua where he honed his Spanish. He then moved to NYC to provide a community garden network some horticultural support. Ethan returned to academia to pursue his Master's degree at the University of California, Davis specializing in agroecology and vegetable production. While there, he managed some of the university's certified organic research land and provided instruction in safe equipment use to student employees. Upon graduation, Ethan returned east to work for the New Entry Sustainable Farming Project. Most recently, Ethan worked as the farm manager at Allandale Farm, a 40 acre diversified vegetable farm in eastern Massachusetts that sold produce through a 400 member CSA, a roadside stand, and restaurants in the Boston area. He, his wife, and their three-year-old son are excited to call the Hudson Valley their new home. Ethan will be based out of the CCE Orange County office in Middletown.


Upcoming Events
Introduction to Winter Growing Webinar
January 2, 2020
Join vegetable specialists Elisabeth Hodgdon (ENYCHP) and Judson Reid (Cornell Vegetable Program) for a webinar on winter vegetable production in high tunnels.
Apple IPM :: Basics for Orchard Employees
January 10, 2020
Ballston Spa, NY
Have farm employees that need recertification credits? We will be covering the basics of integrated pest management, including how to monitor traps, evaluate insect thresholds, and use prediction models to better manage common orchard pests of Northern New York. We will also discuss IPM tactics for managing apple scab, fire blight, obliquebanded leafroller, apple maggot, and some common weeds in the orchard.
Produce Safety Alliance Grower Training Course

February 25, 2020
Albany, NY
A grower training course developed by the Produce Safety Alliance (PSA) that meets the regulatory requirements of the Food Safety Modernization Act (FSMA) Produce Safety Rule. At least one person per farm producing more than $25,000 worth of fruits and vegetables must attend this course once. Participants will receive a certificate of course completion by the Association of Food and Drug Officials.
Announcements
Podcasts