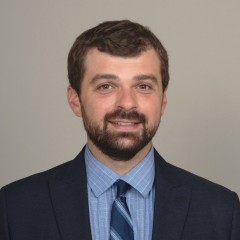 Ethan Grundberg
Vegetable Specialist
CCE Orange County
18 Seward Ave, Suite 300
Middletown, NY 10940
phone 845-344-1234
cell 617-455-1893
email Ethan
Areas of Interest
Organic Production Systems, Small Farm Equipment, IPM, Cover Crops
Ethan Grundberg grew up in eastern Iowa. After graduating from college he spent a year working in the northern coffee-growing region of Nicaragua where he honed his Spanish. He then moved to NYC to provide a community garden network some horticultural support. Ethan returned to academia to pursue his Master's degree at the University of California, Davis specializing in agroecology and vegetable production. While there, he managed some of the university's certified organic research land and provided instruction in safe equipment use to student employees. Upon graduation, Ethan returned east to work for the New Entry Sustainable Farming Project. Most recently, Ethan worked as the farm manager at Allandale Farm, a 40 acre diversified vegetable farm in eastern Massachusetts that sold produce through a 400 member CSA, a roadside stand, and restaurants in the Boston area. He, his wife, and their three-year-old son are excited to call the Hudson Valley their new home. Ethan will be based out of the CCE Orange County office in Middletown.


Upcoming Events
Biocontrol Trial and IPM Field Meeting
August 20, 2019
4pm-6pm
Fort Plain, NY
4-5 pm: Dr's Amara Dunn and Meg McGrath will discuss powdery mildew control using biocontrols and organic and conventional fungicides. Crystal Stewart from the ENYCHP will provide a tour of the biocontrol trial and additional squash and pumpkin mini-variety trial.
5-6pm: Walk the farm fields with Dr's Dunn and McGrath and with CVP specialist Elizabeth Buck to talk about integrated strategies to control pests, diseases, and weeds on the vegetables farm. Bring samples and questions!
6-?pm: Discussion and light refreshments
*Look for the CCE sign to park on a cross street right before the farm.
Ag Manager Webinar Series: Ag Tax Topics - Sales Tax and Property Tax Issues for Ag in NYS
August 27, 2019
12:30 - 12:50pm
Join Liz Higgins from the CCE ENYCHP every other Tuesday at 12:30pm throughout the summer as she discusses pertinent business topics for busy farm managers.
Willsboro Farm High Tunnel Twilight Meeting
August 27, 2019
5:00pm - 7:00pm
Willsboro, NY
Join vegetable specialists Elisabeth Hodgdon, Jud Reid, and farm manager Mike Davis for a high tunnel and field tour at Cornell's Willsboro Research Farm, where they will share research results for the following projects:
Striped cucumber beetle management suing netting and row cover
Varietal differences in cucumber susceptibility to striped cucumber beetle
Ground cherry and goldenberry production in field and high tunnel environments
Overwintered high tunnel spinach nitrogen fertility
Announcements
Podcasts