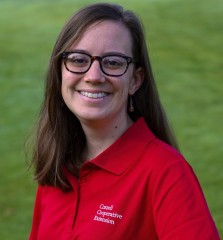 Elisabeth Hodgdon
Vegetable Specialist
CCE Clinton County
6064 NY-22
Plattsburgh, NY 12901
phone 518-561-7450
cell 518-650-5323
email Elisabeth
Areas of Interest
Pest management, high tunnel production, season extension, organic agriculture
Elisabeth grew up on a farm in Vermont, where her interest in growing vegetables began. She studied plant science and agricultural economics at McGill University and later went on to complete her Master's degree at the University of New Hampshire, where she studied cover cropping for weed suppression. While at UNH, she also assisted with vegetable variety trials and high tunnel research. Elisabeth returned to Vermont to earn her PhD at UVM where she researched organic management strategies for swede midge, an invasive pest of cole crops.


Upcoming Events
High Tech Precision Orchard Spraying
July 20, 2020
Join us the afternoon of July 20th to learn what's new in orchard precision spraying technology. We'll be joined by Dr. Jason Deveau, Dr. Heping Zhu, and Steve Booher. After their presentations, we will open up the meeting for all three presenters to field questions and comments.
Announcements
Podcasts