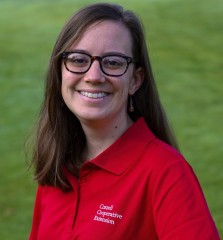 Elisabeth Hodgdon
Vegetable Specialist
CCE Clinton County
6064 NY-22
Plattsburgh, NY 12901
phone 518-561-7450
cell 518-650-5323
email Elisabeth
Areas of Interest
Pest management, high tunnel production, season extension, organic agriculture
Elisabeth grew up on a farm in Vermont, where her interest in growing vegetables began. She studied plant science and agricultural economics at McGill University and later went on to complete her Master's degree at the University of New Hampshire, where she studied cover cropping for weed suppression. While at UNH, she also assisted with vegetable variety trials and high tunnel research. Elisabeth returned to Vermont to earn her PhD at UVM where she researched organic management strategies for swede midge, an invasive pest of cole crops.


Upcoming Events
Ag Manager Webinar Series: Ag Tax Topics - Sales Tax and Property Tax Issues for Ag in NYS
August 27, 2019
12:30 - 12:50pm
Join Liz Higgins from the CCE ENYCHP every other Tuesday at 12:30pm throughout the summer as she discusses pertinent business topics for busy farm managers.
Willsboro Farm High Tunnel Twilight Meeting
August 27, 2019
5:00pm - 7:00pm
Willsboro, NY
Join vegetable specialists Elisabeth Hodgdon, Jud Reid, and farm manager Mike Davis for a high tunnel and field tour at Cornell's Willsboro Research Farm, where they will share research results for the following projects:
Striped cucumber beetle management suing netting and row cover
Varietal differences in cucumber susceptibility to striped cucumber beetle
Ground cherry and goldenberry production in field and high tunnel environments
Overwintered high tunnel spinach nitrogen fertility
Announcements
Podcasts