Zero Disease Tolerance in High Tunnels
January 10, 2013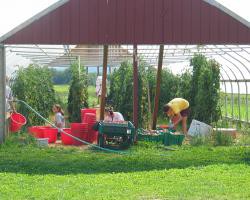 Printed in American Vegetable Grower, October 5, 2012:
Keeping crops free of disease is the goal of all growers, including those producing in high tunnels. Download the PDF file to learn about 20 practices that will reduce the chances of pathogens taking over when growing under cover.
Zero Disease Tolerance in High Tunnels (pdf; 216KB)


Upcoming Events
No upcoming events at this time.
Announcements
Podcasts