Zero Disease Tolerance in High Tunnels
January 10, 2013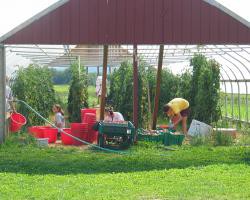 Printed in American Vegetable Grower, October 5, 2012:
Keeping crops free of disease is the goal of all growers, including those producing in high tunnels. Download the PDF file to learn about 20 practices that will reduce the chances of pathogens taking over when growing under cover.
Zero Disease Tolerance in High Tunnels (pdf; 216KB)


Upcoming Events
Soil Health for Vegetable Growers Workshop

November 1, 2023
Essex, NY
Join us for presentations, discussions, and hands-on demonstrations focusing on soil health concepts and best management practices for vegetable growers. Topics include tarping, maintaining soil health in high tunnels, cover cropping, reduced tillage, compost microbiology, and more.
1.75 DEC pesticide recertification credits available in categories 1A, 10, and 23.
Announcements
Podcasts