Low, Quick, and Caterpillar Tunnels: An Overview of Season Extension Techniques
Robert Hadad, Extension Vegetable Specialist
Cornell Vegetable Program
Last Modified: January 24, 2013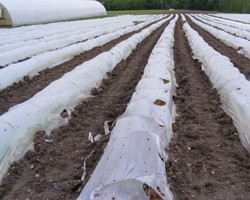 Season extension offers growers expanded times for growing produce. Getting an early jump or holding crops later into the sales season can really increase profits when the techniques are used and costs taken into account.
There are many styles and types of construction available on the internet. The ones mentioned in this presentation cover what is commonly available. Many suppliers carry hoop materials, row covers, and greenhouse film. Ingenuity and imagination creates more effective ways of set up and operation.
The caterpillar example in this presentation is based on low-cost materials. The tunnel is not recommended for handling snow loads. One problem found with it is that rain water can pool pockets of the greenhouse film between the cord/rope. This would require daily observations to push the water out so as not to cause bending of the hoops. Use of the tunnel should be for the extension of the season or getting an earlier start of the season making it easier to work inside. In order for the tunnel to stand up to the winter, daily maintenance is required.
A heavy duty version of the caterpillar tunnel is shown in another presentation listed on this website. It uses chain link fence poles and offers year-round operation with the stronger construction.
Additional resources that may be helpful to you:
Resources and Supplies for Tunnel Construction (PDF; 196KB)
Diggin' Tunnels: Low, Quick, and Caterpillar Tunnels for Season Extension (pdf; 2108KB)


Upcoming Events
Berry Production Workshop: Using Insect Exclusion Netting to Manage SWD
September 15, 2021
October 5, 2021

Due to predictions of extreme weather tomorrow evening, Wednesday, September 15th, the Exclusion Netting Workshop at the Berry Patch, Stephentown, NY has been postponed until Tuesday, October 5th, 4-6pm. If you already registered for the Berry Patch session, there is no need to re-register.
The western NY site at Albers Acres in Kennedy, NY will still hold the workshop tomorrow night, Sept 15.
If you have any questions about eastern NY meeting - please call Laura McDermott, 518-791-5038, or email lgm4@cornell.edu.
2021 season review of SWD management techniques
Join us at either The Berry Patch in Stephentown (Oct 5) or Abers Acres in Kennedy (Sept 15) for a two-hour review of Spotted Wing Drosophila (SWD) management techniques. We'll cover the basics of SWD monitoring of adult and larvae populations and also discuss implementing a pesticide program.
The program will focus on what has been learned about designing an exclusion netting support system that provides long term control of SWD and maximum utility for berry farmers.
Exclusion netting is being used on field blueberries where it controls SWD while also excluding birds and moderating impacts of hail and heavy rain. Raspberries and strawberries also benefit from exclusion netting on the sides of high tunnels.
1.5 DEC credits available in categories 1A, 10, and 22
Remote Produce Safety Alliance Grower Training Course
October 20 - October 21, 2021
A grower training course developed by the Produce Safety Alliance (PSA) that meets the regulatory requirements of the Food Safety Modernization Act (FSMA) Produce Safety Rule. At least one person per farm producing more than $25,000 worth of fruits and vegetables must attend this course once. Participants will receive a certificate of course completion by the Association of Food and Drug Officials.
Announcements
Podcasts