Guide on How to Purchase at the NYS Produce Auctions
Judson Reid, Extension Vegetable Specialist
Cornell Vegetable Program
Last Modified: March 8, 2018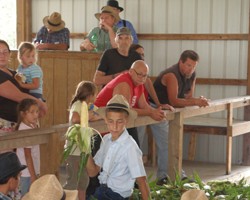 A produce auction is a wholesale market for regionally grown produce. Currently there are eight produce auctions in New York State offering a wide variety of produce at competitive prices. This guide will provide basic information on the terminology of the auction, as well as the step by step process of purchasing produce at these unique markets.
How to Purchase at the New York State Produce Auctions (pdf; 621KB)


Upcoming Events
High Tech Precision Orchard Spraying
July 20, 2020
Join us the afternoon of July 20th to learn what's new in orchard precision spraying technology. We'll be joined by Dr. Jason Deveau, Dr. Heping Zhu, and Steve Booher. After their presentations, we will open up the meeting for all three presenters to field questions and comments.
Announcements
Podcasts