Food Safety Considerations and Design for Packing Sheds
Robert Hadad, Extension Vegetable Specialist
Cornell Vegetable Program
Last Modified: February 16, 2015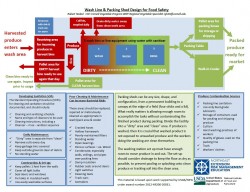 This
diagram
, showing food safety considerations and design recommendations for packing sheds, is not intended to give actual dimensions and square footage since packing sheds can be any size, shape, and configuration. It can be as formal as a permanent building or a canopy at the edge of a field (four sticks and a lid). What really matters is allowing enough room to accomplish the tasks without spreading contamination into the finished product during packing. If produce washing is done, then it is crucial that unwashed product doesn't come into contact with washed produce and the workers doing the washing are clean themselves.
The washing station set up needs to have enough room to move produce in and out. The equipment set-up should consider good drainage to keep the floor as dry as possible, no pooling, or splashing onto clean produce.
Wash Line and Packing Shed Design for Food Safety (pdf; 333KB)


Upcoming Events
Introduction to Winter Growing Webinar
January 2, 2020
Join vegetable specialists Elisabeth Hodgdon (ENYCHP) and Judson Reid (Cornell Vegetable Program) for a webinar on winter vegetable production in high tunnels.
Apple IPM :: Basics for Orchard Employees
January 10, 2020
Ballston Spa, NY
Have farm employees that need recertification credits? We will be covering the basics of integrated pest management, including how to monitor traps, evaluate insect thresholds, and use prediction models to better manage common orchard pests of Northern New York. We will also discuss IPM tactics for managing apple scab, fire blight, obliquebanded leafroller, apple maggot, and some common weeds in the orchard.
Produce Safety Alliance Grower Training Course

February 25, 2020
Albany, NY
A grower training course developed by the Produce Safety Alliance (PSA) that meets the regulatory requirements of the Food Safety Modernization Act (FSMA) Produce Safety Rule. At least one person per farm producing more than $25,000 worth of fruits and vegetables must attend this course once. Participants will receive a certificate of course completion by the Association of Food and Drug Officials.
Announcements
Podcasts