2016 Beet Herbicide Chart
Julie Kikkert, Team Leader, Extension Vegetable Specialist
Cornell Vegetable Program
Last Modified: March 1, 2016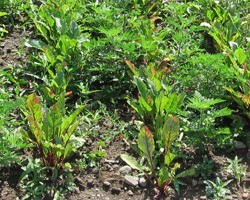 This chart created in cooperation with Dr. Robin Bellinder, weed scientist at Cornell, lists the herbicides that are labeled for beets and which weed species are controlled. While the chart is a handy reference, it is critical to read the product labels thoroughly.
Herbicide effectiveness depends on many things. If the weed species you are trying to control has a poor or fair rating with a particular product, you should try other options. To be most effective, herbicides must be applied at the correct state of crop development and weed size. Effectiveness may also vary with method of application, rate, use of an adjuvant, and soil and climatic factors.
Relative Effectiveness of Herbicides Available for Use in Beets in NY in 2016 (pdf; 29KB)


Upcoming Events
High Tech Precision Orchard Spraying
July 20, 2020
Join us the afternoon of July 20th to learn what's new in orchard precision spraying technology. We'll be joined by Dr. Jason Deveau, Dr. Heping Zhu, and Steve Booher. After their presentations, we will open up the meeting for all three presenters to field questions and comments.
Announcements
Podcasts