Grafting of Tomatoes for Soil-based Production in Greenhouses & High Tunnels
Judson Reid, Extension Vegetable Specialist
Cornell Vegetable Program
April 25, 2013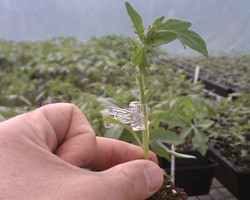 In 2012, the Cornell Vegetable Program conducted trials of grafted cucumbers and tomatoes. We grafted 2 tomato scions (Panzer and Big Dena) onto 3 different rootstocks (Arnold, Colossus and Maxifort). We also grew out ungrafted control plots for comparison. Tomatoes were grafted using the 'tube-graft' method. Detailed information on our materials and methods can be found in the full report below.
Grafting Tomatoes for Soil-based Production in Greenhouses & High Tunnels, 2012 (pdf; 966KB)


Upcoming Events
Soil Health for Vegetable Growers Workshop

November 1, 2023
Essex, NY
Join us for presentations, discussions, and hands-on demonstrations focusing on soil health concepts and best management practices for vegetable growers. Topics include tarping, maintaining soil health in high tunnels, cover cropping, reduced tillage, compost microbiology, and more.
1.75 DEC pesticide recertification credits available in categories 1A, 10, and 23.
Announcements
Podcasts