Grafting of Tomatoes for Soil-based Production in Greenhouses & High Tunnels
Judson Reid, Extension Vegetable Specialist
Cornell Vegetable Program
April 25, 2013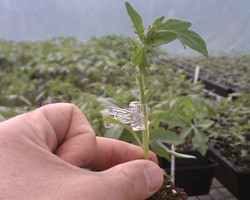 In 2012, the Cornell Vegetable Program conducted trials of grafted cucumbers and tomatoes. We grafted 2 tomato scions (Panzer and Big Dena) onto 3 different rootstocks (Arnold, Colossus and Maxifort). We also grew out ungrafted control plots for comparison. Tomatoes were grafted using the 'tube-graft' method. Detailed information on our materials and methods can be found in the full report below.
Grafting Tomatoes for Soil-based Production in Greenhouses & High Tunnels, 2012 (pdf; 966KB)


Upcoming Events
Berry Production Twilight Meeting

July 8, 2021
Peru, NY
Rulf's Orchard, 531 Bear Swamp Road, Peru, NY
Many berry topics will be discussed including growing Juneberries (Amelanchier, not strawberries), using entomopathogenic nematodes to control strawberry root pests, low tunnel production in June bearing strawberries, SWD monitoring and management. 2.5 DEC pesticide recertification credits available in categories 1A, 10, 22, and 23. Contact Elisabeth Hodgdon (eh528@cornell.edu or 518-650-5323) or Laura McDermott (lgm4@cornell.edu or 518-746-2562) with questions.
Announcements
Podcasts