Grafting of Tomatoes for Soil-based Production in Greenhouses & High Tunnels
Judson Reid, Extension Vegetable Specialist
Cornell Vegetable Program
April 25, 2013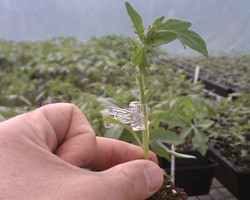 In 2012, the Cornell Vegetable Program conducted trials of grafted cucumbers and tomatoes. We grafted 2 tomato scions (Panzer and Big Dena) onto 3 different rootstocks (Arnold, Colossus and Maxifort). We also grew out ungrafted control plots for comparison. Tomatoes were grafted using the 'tube-graft' method. Detailed information on our materials and methods can be found in the full report below.
Grafting Tomatoes for Soil-based Production in Greenhouses & High Tunnels, 2012 (pdf; 966KB)


Upcoming Events
No upcoming events at this time.
Announcements
Podcasts