Phytophthora Webinar 3: Management practices to reduce P-Cap on the farm
May 13, 2013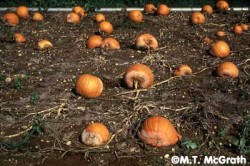 Upcoming Events
Farm Financial Education for Women - Annies Project
November 12 - January 14, 2019
9:00am to 2:00pm
Kingston, NY
This 4-part series is designed for women who are farm owners or farm managers, or who anticipate moving into a decision-making position on a farm. The program runs from November through January.

Certificates will be awarded from Annie's Project to those who complete all sessions and who have applied to have the program qualify for FSA borrower training.


Fruit Category Pesticide Exam and Orchard IPM Basics
November 27, 2018
1:30pm-3pm
Plattsburgh, NY
At this meeting, we will review orchard Integrated Pest Management (IPM), referencing from the NY Private Fruit Category (22) manual. We will first review the core foundations of integrated pest management, and then discuss as a group some of the key pests found in Northern New York orchards.

How To Obtain a Pesticide Applicator License
November 27, 2018
10am-1pm
Plattsburgh, NY
Receive an overview of the application, testing process, and key concepts of the materials needed to obtain a private or commercial NYSDEC pesticide applicator license.

Announcements
Check out the Updated Labeled Insecticides for SWD
Labeled Insecticides for Control of Spotted Wing Drosophila in New York Berry Crops - Quick Guide Compiled by Greg Loeb, Laura McDermott, Peter Jentsch & Juliet Carroll, Cornell University. Updated regularly. Check it out at this link!
New Resources from CCE ENYCHP!
We are developing new ways to connect with the CCE ENYCHP team this year!
We have a Youtube page located at this link
. Check out videos on Table Grape Production, Pest Updates and the 20 Minute Ag Manager - in 4 Minutes series.
There are also text alerts available.
Fruit and vegetable farmers in 17 Eastern NY counties can now receive real time alerts on high risk disease and pest outbreaks texted directly to their cell phone. The Eastern NY Commercial Horticulture program, which is supported by local Cornell Cooperative Extension associations, will now offer text alerts to those that sign up.
The text alerts will be reserved for important crop alerts that could impact management decisions immediately. For instance, if there were an outbreak of Late Blight in the area, this would be transmitted to vegetable growers.
Farmers can choose the crop for which they wish to receive updates. Additionally they can request that Ag Business Alerts be sent to them. These alerts might include due dates for crop insurance deadlines, market opportunities etc.
Text alerts are easy to access. Just click on the link below and fill out a very short registration form. It takes just seconds to do - access to important information has never been so easy!!

If you have questions, please contact Abby Henderson at 518-746-2553 or email her at aef225@cornell.edu.

Confused by the WPS (Worker Protection Standard)?
Please take note: WPS pertains to all farms-organic and conventional! To be sure that you are complying with these regulations, please view the EPA link below:
https://www.epa.gov/sites/production/files/2015-09/documents/comparison-chart-wps.pdf
Eastern New York Commercial Horticulture - Cornell Cooperative Extension
Your Trusted Source for Research-Based Knowledge