Wild Proso Millet
Julie Kikkert, Team Leader, Extension Vegetable Specialist
Cornell Vegetable Program
Last Modified: March 20, 2012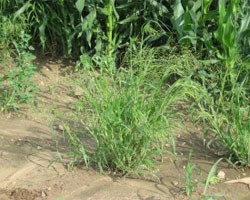 Do you have Wild Proso Millet on your farm?

Late summer is a good time to identify grassy weeds because they often have seed heads. Wild proso millet is present in NY and can be a problem weed in sweet corn and other vegetable crops. Wild proso millet is a large tufted annual grass with erect stems branching from the base. It may grow up to 2 m tall and is often nearly as tall as sweet corn.

The PDF below provides more characteristics of wild proso millet and photos. If you have questions on the identification or control of this weed on your farm, please contact Julie Kikkert.
See more characteristics and photos (pdf; 163KB)


Upcoming Events
No upcoming events at this time.
Announcements
Podcasts