Nightshade Management Reduces Crop Loss
Julie Kikkert, Team Leader, Extension Vegetable Specialist
Cornell Vegetable Program
Last Modified: March 20, 2012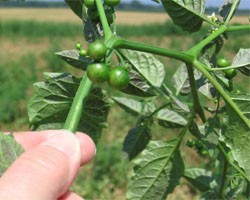 Many New York vegetable growers complained about the abundance of nightshades on their farms in recent years. A warm spring favors early germination of nightshade and other weeds.
For processing pea growers, nightshades can turn to nightmares as many fields with bountiful pea crops can be rejected by processors at harvest time because nightshade berries have similar size and shape as peas. Similar crop loss can occur in beans where nightshade berries stain and cause soil to stick to pods. Nightshades should be managed in other crops as well because they reduce crop yields, and harbor diseases of Solanaceous crops such as early blight and late blight of potatoes and tomatoes. Nightshades may become more of a problem in NY if early, warm spring weather becomes a more frequent pattern.
Download a complete report on the species of nightshades in NY, physiological difference between them, emergence and growth data, and control strategies.
See nightshade complete report (pdf; 871KB)


Upcoming Events
Agricultural Supervisory Leadership Certificate Program
June 17, 2022
June 23, 2022
June 30, 2022
July 7, 2022
July 14, 2022
July 21, 2022
July 28, 2022

Supervisors are critical to the success of farm businesses. They have a major impact both on employees' daily work experiences and on the production performance of the business. The agricultural Supervisory Leadership certificate helps farm supervisors and managers learn and apply human resource management practices and leadership skills that foster rewarding workplaces and drive business results. Confident managers who thoughtfully apply leadership and management skills improve employee performance, develop teams, reduce employee turnover, and increase employee engagement. The courses within the certificate program will offer extensive practice and engagement activities to build confidence and skill sets.
Peru Weed Management and Soil Health Field Day

July 20, 2022
Peru, NY
Join us in Peru on July 20th as we discuss orchard weed and soil management! Speakers will be joining us from across Cornell's research and extension teams. Topics will include the results of our herbicide timing trials, new vision-guided technologies for orchard weed spraying, organic weed management options, soil health demonstrations, and a discussion on our statewide orchard soil health survey. DEC credits are pending for this event.
July Next Gen Meetup at Bowman Orchards
July 21, 2022
Rexford, NY
The July Next-Gen meet-up is focused on marketing. We will provide everyone who registers with a resource guide to farm stand marketing. The Bowman's have a farm store, U-Pick berries, sunflowers, apples and pumpkins as well as a commercial apple orchard. We encourage you to check out their website (Bowman Orchards).
Young farmers are welcome to attend, the focus of the program is farmers who are in the process of taking over a farm from the prior generation (whether family or not). Please pre-register by July 18 so that we know you are coming and can have enough food for dinner and resource materials.
Announcements
Podcasts