High Tunnel Hanging Baskets, 2010
Judson Reid, Extension Vegetable Specialist
Cornell Vegetable Program
January 19, 2011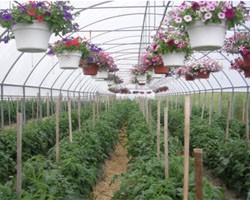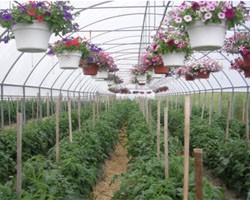 Although Cornell Vegetable Program research from 2009 showed a net positive impact of hanging baskets of petunias on tunnel economic performance, tomato yields were decreased. In 2010 the project team repeated research in an unheated high tunnel, representing a dramatic decrease in fuel inputs compared to a heated greenhouse for hanging baskets. A lower density treatment was used, compared to 2009, and light intensity data was collected. Risks of shading an in-ground tomato crop and spread of insects and diseases between the flowers and vegetables were investigated.
Read full report (pdf; 212KB)


Upcoming Events
No upcoming events at this time.
Announcements
Podcasts