High Tunnel Hanging Baskets, 2010
Judson Reid, Extension Vegetable Specialist
Cornell Vegetable Program
January 19, 2011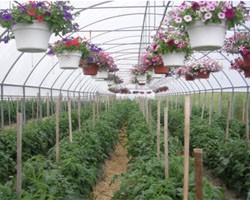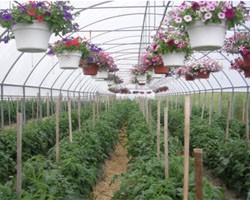 Although Cornell Vegetable Program research from 2009 showed a net positive impact of hanging baskets of petunias on tunnel economic performance, tomato yields were decreased. In 2010 the project team repeated research in an unheated high tunnel, representing a dramatic decrease in fuel inputs compared to a heated greenhouse for hanging baskets. A lower density treatment was used, compared to 2009, and light intensity data was collected. Risks of shading an in-ground tomato crop and spread of insects and diseases between the flowers and vegetables were investigated.
Read full report (pdf; 212KB)


Upcoming Events
Soil Health for Vegetable Growers Workshop

November 1, 2023
Essex, NY
Join us for presentations, discussions, and hands-on demonstrations focusing on soil health concepts and best management practices for vegetable growers. Topics include tarping, maintaining soil health in high tunnels, cover cropping, reduced tillage, compost microbiology, and more.
1.75 DEC pesticide recertification credits available in categories 1A, 10, and 23.
Announcements
Podcasts