Grafting Cucumbers in High Tunnels
Judson Reid, Extension Vegetable Specialist
Cornell Vegetable Program
January 25, 2011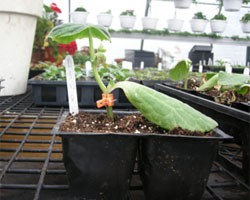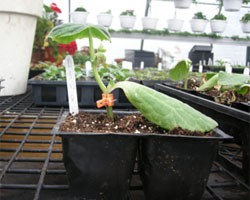 Soil based greenhouse and high tunnel production of vegetables has risen dramatically in New York recently. This season extension technology offers farmers an opportunity to target market price peaks and capitalize on rising demand for locally grown produce. Considerable attention has been given, justifiably, to tomatoes in these settings. Trials by the Cornell Vegetable Program confirm that cucumbers can also be grown at a profit in tunnels.

As production continues in the same soil beds, risk of root-zone diseases and soil nutrient deficiencies increase. Grafting, the combination of two separate cultivars into one plant, could be a solution to these challenges. Evaluations of grafted tomato by the Cornell Vegetable Program revealed several advantages. This project endeavored to graft cucumbers onto a fig leaf gourd (Cucurbita ficifolia) for increased yields and cold hardiness.

Read full report (pdf; 223KB)


Upcoming Events
Berry Production Twilight Meeting

July 8, 2021
Peru, NY
Rulf's Orchard, 531 Bear Swamp Road, Peru, NY
Many berry topics will be discussed including growing Juneberries (Amelanchier, not strawberries), using entomopathogenic nematodes to control strawberry root pests, low tunnel production in June bearing strawberries, SWD monitoring and management. 2.5 DEC pesticide recertification credits available in categories 1A, 10, 22, and 23. Contact Elisabeth Hodgdon (eh528@cornell.edu or 518-650-5323) or Laura McDermott (lgm4@cornell.edu or 518-746-2562) with questions.
Announcements
Podcasts