Site Selection for High Tunnels
Amy Ivy, Vegetable Specialist
Eastern New York Commercial Horticulture
Last Modified: December 2, 2015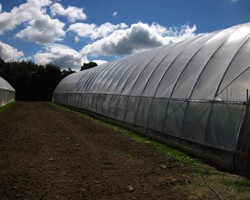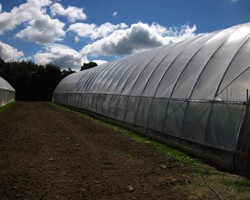 Deciding where to put a new high tunnel requires careful consideration regarding to sun and wind exposure, access to water, drainage and the best possible soil. A good site will set you up for success by avoiding potential problems.
Site Selection for High Tunnels (pdf; 224KB)
Download this file to see full article on Site Selection for High Tunnels
(pdf; 550KB)
(pdf; 224KB)


Upcoming Events
Produce Safety Alliance Grower Training Course

February 25, 2020
Albany, NY
A grower training course developed by the Produce Safety Alliance (PSA) that meets the regulatory requirements of the Food Safety Modernization Act (FSMA) Produce Safety Rule. At least one person per farm producing more than $25,000 worth of fruits and vegetables must attend this course once. Participants will receive a certificate of course completion by the Association of Food and Drug Officials.
2020 ENYCHP Fruit & Vegetable Conference
February 25 - February 26, 2020
Albany, NY
Join us for two days filled with informative sessions on Tree Fruit, Vegetables, Small Fruit, Grapes, Hemp, and more!
Hands-on Pruning Demonstration with Dr. Terence Robinson - Capital Region
February 27, 2020
Altamont, NY
Join us for a morning of hands-on pruning discussion and demonstration with Dr. Terence Robinson. Terence will walk us through the key steps of pruning the tall spindle orchard, and will also review pruning techniques for other orchard systems commonly grown across the Capital Region. Please note this meeting will be held the morning following our annual winter conference in Albany.
Announcements
Podcasts