2016 SWD Exclusion Study- SARE Project Report
Abigail Henderson, Senior Administrative Assistant
Eastern New York Commercial Horticulture
May 2, 2016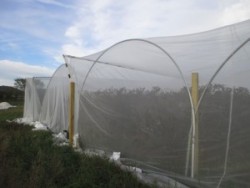 The use of insect netting on existing bird netting support systems to exclude spotted-wing Drosophila from a mature small-scale commercial highbush blueberry planting
Final Report
Summary
This project investigated the feasibility of using 80 gram (.95 mm x .95 mm) insect exclusion netting on an existing bird netting support system to prevent Spotted Wing Drosophila (SWD) infestation in a commercial mature blueberry planting. Complete rows of the planting were covered with 60 gram insect netting, 80 gram insect netting, and standard bird netting prior to fruit coloring. The two netting treatments had mesh covered double entry vestibules for a defined entryway into the planting. Fruit samples were collected weekly and held in rearing cups in a lab for three weeks to determine SWD infestation levels in the fruit.
The system worked extremely well. In 2014, with the 80 gram netting, at most, only 0.53 percent infestation occurred in a 10 week harvest season. Unsprayed berries without exclusion netting had as high as a 60% infestation level in one sampling period alone. In 2015, using the 80 gram netting, at most, a 0.37% infestation was found over a 5 week harvest season. Sprayed berries without exclusion netting had as high as a 20% infestation level in an individual sampling period. The netting held up through 3 severe thunderstorms and 2 hail storms and we refined our attachment system for large scale deployment of large pieces of netting.
READ THE FULL REPORT at
http://mysare.sare.org/sare_project/fne14-813/?page=final


Upcoming Events
Soil Health for Vegetable Growers Workshop

November 1, 2023
Essex, NY
Join us for presentations, discussions, and hands-on demonstrations focusing on soil health concepts and best management practices for vegetable growers. Topics include tarping, maintaining soil health in high tunnels, cover cropping, reduced tillage, compost microbiology, and more.
1.75 DEC pesticide recertification credits available in categories 1A, 10, and 23.
Announcements
Podcasts