Resource Guide for Organic Insect and Disease Management
Robert Hadad, Extension Vegetable Specialist
Cornell Vegetable Program
April 1, 2012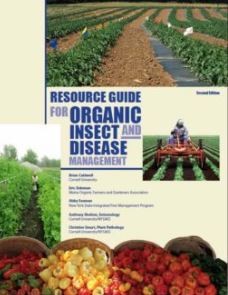 Organic farmers rely primarily on preventive, cultural and integrated methods of pest and disease management. However, there are a number of materials available for use that can complement and support organic management. This guide was developed to provide a useful and scientifically accurate reference for organic farmers and agricultural professionals searching for information on best practices, available materials and perhaps most importantly, the efficacy of materials that are permitted for use in organic systems. Many products available to organic farmers have not been tested extensively, and current research has not been summarized or made widely available to the general producer. A major objective of this guide has been to review recent literature for published trials on material efficacy in order to provide reliable information that can be used by farmers to effectively manage pests. Additionally, a goal was to identify what materials have shown promise but need more research.

For more information about the Resource Guide for Organic Insect and Disease Management and how to order it, click here.




Upcoming Events
ENY Late Summer Orchard Field Meeting

August 16, 2022
Granville, NY
Join us for a late-summer field meeting. Cornell researchers and extension specialists will give talks on management tasks to be mindful of late in the season as we head into harvest. We will then walk through the orchard to look for some of the issues discussed, and further discuss their management strategies in the field. We will then discuss how the crop is shaping up around the greater ENY region, and will allow ample time for you to share your thoughts on this year's crop, and to answer any other questions you may have.
Costa Rica Agritourism and Cultural Study Tour
December 3 - December 11, 2022
Costa Rica Agritourism and Cultural Study Tour hosted by Laura McDermott, and organized by Explorations by Thor, a well-respected international travel company that specializes in agricultural tours will embark December 3 - 11, 2022. Don't miss this opportunity to travel, learn and relax with other farmers. It will be a blast!
This one-of-a-kind guided excursion is an educational and entertaining way to visit another country while networking with fellow berry production and Agri-tourism professionals. The tour allows attendees the convenience of a completed itinerary including hotels, most meals and in-country transportation. Guests will visit a wide variety of Costa Rican agriculture and while still having time for cultural highlights.
Announcements
Podcasts