Resource Guide for Organic Insect and Disease Management
Robert Hadad, Extension Vegetable Specialist
Cornell Vegetable Program
April 1, 2012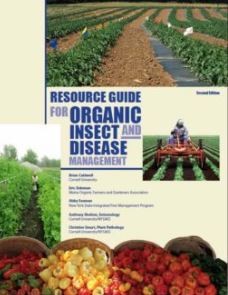 Organic farmers rely primarily on preventive, cultural and integrated methods of pest and disease management. However, there are a number of materials available for use that can complement and support organic management. This guide was developed to provide a useful and scientifically accurate reference for organic farmers and agricultural professionals searching for information on best practices, available materials and perhaps most importantly, the efficacy of materials that are permitted for use in organic systems. Many products available to organic farmers have not been tested extensively, and current research has not been summarized or made widely available to the general producer. A major objective of this guide has been to review recent literature for published trials on material efficacy in order to provide reliable information that can be used by farmers to effectively manage pests. Additionally, a goal was to identify what materials have shown promise but need more research.

For more information about the Resource Guide for Organic Insect and Disease Management and how to order it, click here.




Upcoming Events
2020 Fall Round Up: Fall Management for Your Livestock, Pasture, and Business
October 29, 2020
Join Cornell Cooperative Extension Educators Ashley Pierce, Aaron Gabriel, and Dayton Maxwell. This dynamic and slightly humorous group will discuss strategies for overwintering pastures in combination with management guidelines for helping livestock enter the winter season with adequate body condition. Farm visioning, mission development, and farm goal setting will conclude the one-hour program.
2021 Fruit & Vegetable Conference
February 16 - February 18, 2021
The Eastern NY Fruit & Vegetable Conference, normally held at The Desmond Hotel in Albany, will be going virtual 2021. The ENYCH team will try to coordinate with other regional fruit and vegetable teams from across the state to offer a larger statewide virtual meeting. These are tentative dates for now. Additional information will be continued to be shared as it becomes available.
Announcements
Podcasts