High Tunnel Pepper Variety Trial, 2011
Judson Reid, Extension Vegetable Specialist
Cornell Vegetable Program
February 1, 2012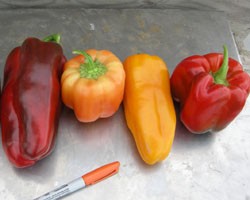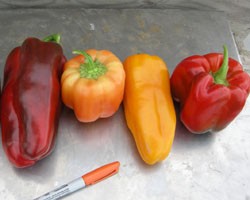 Peppers offer a viable option to tomatoes for commercial production in high tunnel greenhouses. In 2011 the Cornell Vegetable Program partnered with Harris Seed, Inc. to evaluate five varieties in a cooperating grower unheated high tunnel.
The peppers evaluated in 2011 performed very similar in total yield per plant as measured by pounds. When we look at fruit size and weight we do find differences that can help growers make choices in variety. When selling by the piece, in a retail setting, varieties such as Yellow Crest would work well. For wholesale accounts varieties such as Gordo will fill bushel boxes faster. Sandpiper, a slightly smaller fruit than the other bell peppers is this trial, gave very good yields and offers a nice color spectrum. High tunnels are a great tool for vegetable growers to increase quality and color of bell peppers. Total economic performance per square foot is much less than tomatoes. However, labor inputs are also lower. Although not a perfect rotational crop with tomatoes, peppers are not a host for Fulvia Leaf Mold, and are less likely to harbor Two Spotted Spider Mites. We encourage growers to consider peppers in high tunnels for increased quality and yield.
Read full report (pdf; 828KB)


Upcoming Events
Biocontrol Trial and IPM Field Meeting
August 20, 2019
4pm-6pm
Fort Plain, NY
4-5 pm: Dr's Amara Dunn and Meg McGrath will discuss powdery mildew control using biocontrols and organic and conventional fungicides. Crystal Stewart from the ENYCHP will provide a tour of the biocontrol trial and additional squash and pumpkin mini-variety trial.
5-6pm: Walk the farm fields with Dr's Dunn and McGrath and with CVP specialist Elizabeth Buck to talk about integrated strategies to control pests, diseases, and weeds on the vegetables farm. Bring samples and questions!
6-?pm: Discussion and light refreshments
*Look for the CCE sign to park on a cross street right before the farm.
Ag Manager Webinar Series: Ag Tax Topics - Sales Tax and Property Tax Issues for Ag in NYS
August 27, 2019
12:30 - 12:50pm
Join Liz Higgins from the CCE ENYCHP every other Tuesday at 12:30pm throughout the summer as she discusses pertinent business topics for busy farm managers.
Willsboro Farm High Tunnel Twilight Meeting
August 27, 2019
5:00pm - 7:00pm
Willsboro, NY
Join vegetable specialists Elisabeth Hodgdon, Jud Reid, and farm manager Mike Davis for a high tunnel and field tour at Cornell's Willsboro Research Farm, where they will share research results for the following projects:
Striped cucumber beetle management suing netting and row cover
Varietal differences in cucumber susceptibility to striped cucumber beetle
Ground cherry and goldenberry production in field and high tunnel environments
Overwintered high tunnel spinach nitrogen fertility
Announcements
Podcasts