2019 Pea Herbicide Chart
Julie Kikkert, Team Leader, Extension Vegetable Specialist
Cornell Vegetable Program
Last Modified: May 14, 2019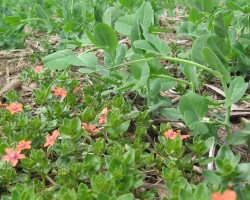 It is important to select the proper herbicides for a particular crop. To be most effective, the herbicide must be applied at the correct stage of crop development and weed size. The chart gives details on rates, pre-harvest interval (PHI), and weed species controlled. However, it is critical to read the product label thoroughly.

Post-Emergence herbicides have very specific language as to which stage of the pea crop it can be applied to. Click on the Pea Growth Stage file for help with counting nodes in peas.
Pea Growth Stage: How to Count Nodes in Succulent Green Peas (pdf; 183KB)
Relative Effectiveness of Herbicides Available for Use in Peas in NY in 2019 (pdf; 29KB)


Upcoming Events
Introduction to Winter Growing Webinar
January 2, 2020
Join vegetable specialists Elisabeth Hodgdon (ENYCHP) and Judson Reid (Cornell Vegetable Program) for a webinar on winter vegetable production in high tunnels.
Apple IPM :: Basics for Orchard Employees
January 10, 2020
Ballston Spa, NY
Have farm employees that need recertification credits? We will be covering the basics of integrated pest management, including how to monitor traps, evaluate insect thresholds, and use prediction models to better manage common orchard pests of Northern New York. We will also discuss IPM tactics for managing apple scab, fire blight, obliquebanded leafroller, apple maggot, and some common weeds in the orchard.
Produce Safety Alliance Grower Training Course

February 25, 2020
Albany, NY
A grower training course developed by the Produce Safety Alliance (PSA) that meets the regulatory requirements of the Food Safety Modernization Act (FSMA) Produce Safety Rule. At least one person per farm producing more than $25,000 worth of fruits and vegetables must attend this course once. Participants will receive a certificate of course completion by the Association of Food and Drug Officials.
Announcements
Podcasts