Designing and Building Germination Chambers - A Case Study
Crystal Stewart-Courtens, Extension Vegetable Specialist
Eastern New York Commercial Horticulture
April 7, 2017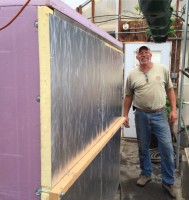 Seven growers from across Eastern NY were identified as having the need for germination chambers and a variety of different locations in which to trial them. These growers convened at a meeting with agriculture engineers and greenhouse experts to share the key components they needed in a germination chamber. Some of these components included:Cost-effective to build and maintainEasy to build and maintainMoveable Possible to light, for items like lettucePossible to cool, for use in greenhouses and in the summerModular, with ability to have different parts at different temperatures
Other needs, such as size,building material, and monitoring equipment type were extremely variable. However, understanding the underlying needs of most chambers was very helpful in informing the design process.
Based on this process, agricultural engineers started to create designs for the growers but ultimately growers created their own designs, with the support of Teresa and Crystal. Of the designs which were created, two seemed to offer wide appeal due to their cost-effectiveness, versatility, and the quality of the transplants grown.
Cold Spring Farm Germination Chamber (pdf; 1593KB)
Poughkeepsie Farm Project Chmber (pdf; 1306KB)


Upcoming Events
Berry Production Twilight Meeting

July 8, 2021
Peru, NY
Rulf's Orchard, 531 Bear Swamp Road, Peru, NY
Many berry topics will be discussed including growing Juneberries (Amelanchier, not strawberries), using entomopathogenic nematodes to control strawberry root pests, low tunnel production in June bearing strawberries, SWD monitoring and management. 2.5 DEC pesticide recertification credits available in categories 1A, 10, 22, and 23. Contact Elisabeth Hodgdon (eh528@cornell.edu or 518-650-5323) or Laura McDermott (lgm4@cornell.edu or 518-746-2562) with questions.
Announcements
Podcasts