Designing and Building Germination Chambers - A Case Study
Crystal Stewart-Courtens, Extension Vegetable Specialist
Eastern New York Commercial Horticulture
April 7, 2017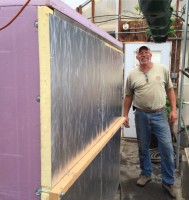 Seven growers from across Eastern NY were identified as having the need for germination chambers and a variety of different locations in which to trial them. These growers convened at a meeting with agriculture engineers and greenhouse experts to share the key components they needed in a germination chamber. Some of these components included:Cost-effective to build and maintainEasy to build and maintainMoveable Possible to light, for items like lettucePossible to cool, for use in greenhouses and in the summerModular, with ability to have different parts at different temperatures
Other needs, such as size,building material, and monitoring equipment type were extremely variable. However, understanding the underlying needs of most chambers was very helpful in informing the design process.
Based on this process, agricultural engineers started to create designs for the growers but ultimately growers created their own designs, with the support of Teresa and Crystal. Of the designs which were created, two seemed to offer wide appeal due to their cost-effectiveness, versatility, and the quality of the transplants grown.
Cold Spring Farm Germination Chamber (pdf; 1593KB)
Poughkeepsie Farm Project Chmber (pdf; 1306KB)


Upcoming Events
2020 Fall Round Up: Fall Management for Your Livestock, Pasture, and Business
October 29, 2020
Join Cornell Cooperative Extension Educators Ashley Pierce, Aaron Gabriel, and Dayton Maxwell. This dynamic and slightly humorous group will discuss strategies for overwintering pastures in combination with management guidelines for helping livestock enter the winter season with adequate body condition. Farm visioning, mission development, and farm goal setting will conclude the one-hour program.
2021 Fruit & Vegetable Conference
February 16 - February 18, 2021
The Eastern NY Fruit & Vegetable Conference, normally held at The Desmond Hotel in Albany, will be going virtual 2021. The ENYCH team will try to coordinate with other regional fruit and vegetable teams from across the state to offer a larger statewide virtual meeting. These are tentative dates for now. Additional information will be continued to be shared as it becomes available.
Announcements
Podcasts