Exploring Ethnic Vegetables
Robert Hadad, Extension Vegetable Specialist
Cornell Vegetable Program
April 2, 2012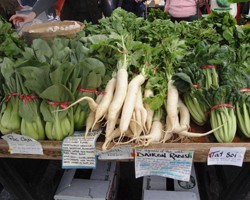 In and around our larger cities and increasingly out in suburban areas, ethnic communities are expanding. This presentation was made to a small farmers' meeting sponsored by the Cornell Vegetable Program, Ontario County CCE, and through funding by GVRMA. The presentation covered discovering what communities are out there, vegetable varieties available, and marketing. Future work will focus on reporting results from variety trials and marketing economics.
Ethnic Vegetables (pdf; 4984KB)


Upcoming Events
No upcoming events at this time.
Announcements
Podcasts