2015 Herbicides for Weed Control in Snap and Dry Beans
Julie Kikkert, Team Leader, Extension Vegetable Specialist
Cornell Vegetable Program
Last Modified: April 29, 2016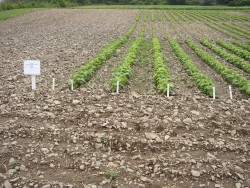 Have you had problem weeds slipping through your snap or dry bean weed control program? Have lambsquarters, ragweed, hairy or Eastern black nightshade, nutsedge, etc, been escaping? Herbicide choice and rate, application timing, soil or foliar application, rainfall and temperature near the time of application, soil organic matter, clay/silt content, and moisture, etc. can all affect how well herbicides work. Some bean classes are more sensitive to bean phytotoxicity/damage than others. Some herbicide residues last a long time in soils and there are restrictions on what crops can be planted 8, 10 or 12 months after the application.The 2015 update to the Herbicide for Snap and Dry Bean Weed Control chart includes information on all these factors and will help you choose the best herbicide programs for your fields.
2015 Herbicides for Snap and Dry Bean Weed Control (pdf; 85KB)


Upcoming Events
Berry Production Twilight Meeting

July 8, 2021
Peru, NY
Rulf's Orchard, 531 Bear Swamp Road, Peru, NY
Many berry topics will be discussed including growing Juneberries (Amelanchier, not strawberries), using entomopathogenic nematodes to control strawberry root pests, low tunnel production in June bearing strawberries, SWD monitoring and management. 2.5 DEC pesticide recertification credits available in categories 1A, 10, 22, and 23. Contact Elisabeth Hodgdon (eh528@cornell.edu or 518-650-5323) or Laura McDermott (lgm4@cornell.edu or 518-746-2562) with questions.
Announcements
Podcasts