Cherry Tomatoes Pruning & Training
Amy Ivy, Vegetable Specialist
Eastern New York Commercial Horticulture
April 20, 2018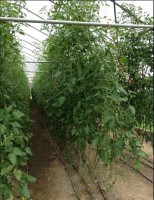 Cherry tomatoes thrive in the protected conditions of a high tunnel and are less prone to cracking where water supply is controlled. If left untrained, tomatoes will quickly form a tangled mess that is difficult to maneuver through and harvest. This fact sheet provides information on how to prune and train cherry tomatoes in high tunnels.
Cherry Tomatoes Pruning & Training (pdf; 826KB)


Upcoming Events
Introduction to Winter Growing Webinar
January 2, 2020
Join vegetable specialists Elisabeth Hodgdon (ENYCHP) and Judson Reid (Cornell Vegetable Program) for a webinar on winter vegetable production in high tunnels.
Apple IPM :: Basics for Orchard Employees
January 10, 2020
Ballston Spa, NY
Have farm employees that need recertification credits? We will be covering the basics of integrated pest management, including how to monitor traps, evaluate insect thresholds, and use prediction models to better manage common orchard pests of Northern New York. We will also discuss IPM tactics for managing apple scab, fire blight, obliquebanded leafroller, apple maggot, and some common weeds in the orchard.
Produce Safety Alliance Grower Training Course

February 25, 2020
Albany, NY
A grower training course developed by the Produce Safety Alliance (PSA) that meets the regulatory requirements of the Food Safety Modernization Act (FSMA) Produce Safety Rule. At least one person per farm producing more than $25,000 worth of fruits and vegetables must attend this course once. Participants will receive a certificate of course completion by the Association of Food and Drug Officials.
Announcements
Podcasts