Cherry Tomatoes Pruning & Training
Amy Ivy, Vegetable Specialist
Eastern New York Commercial Horticulture
April 20, 2018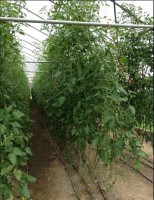 Cherry tomatoes thrive in the protected conditions of a high tunnel and are less prone to cracking where water supply is controlled. If left untrained, tomatoes will quickly form a tangled mess that is difficult to maneuver through and harvest. This fact sheet provides information on how to prune and train cherry tomatoes in high tunnels.
Cherry Tomatoes Pruning & Training (pdf; 826KB)


Upcoming Events
Biocontrol Trial and IPM Field Meeting
August 20, 2019
4pm-6pm
Fort Plain, NY
4-5 pm: Dr's Amara Dunn and Meg McGrath will discuss powdery mildew control using biocontrols and organic and conventional fungicides. Crystal Stewart from the ENYCHP will provide a tour of the biocontrol trial and additional squash and pumpkin mini-variety trial.
5-6pm: Walk the farm fields with Dr's Dunn and McGrath and with CVP specialist Elizabeth Buck to talk about integrated strategies to control pests, diseases, and weeds on the vegetables farm. Bring samples and questions!
6-?pm: Discussion and light refreshments
*Look for the CCE sign to park on a cross street right before the farm.
Ag Manager Webinar Series: Ag Tax Topics - Sales Tax and Property Tax Issues for Ag in NYS
August 27, 2019
12:30 - 12:50pm
Join Liz Higgins from the CCE ENYCHP every other Tuesday at 12:30pm throughout the summer as she discusses pertinent business topics for busy farm managers.
Willsboro Farm High Tunnel Twilight Meeting
August 27, 2019
5:00pm - 7:00pm
Willsboro, NY
Join vegetable specialists Elisabeth Hodgdon, Jud Reid, and farm manager Mike Davis for a high tunnel and field tour at Cornell's Willsboro Research Farm, where they will share research results for the following projects:
Striped cucumber beetle management suing netting and row cover
Varietal differences in cucumber susceptibility to striped cucumber beetle
Ground cherry and goldenberry production in field and high tunnel environments
Overwintered high tunnel spinach nitrogen fertility
Announcements
Podcasts