Growers are Producing Great Transplants Despite Tough Weather Conditions
Crystal Stewart-Courtens, Extension Vegetable Specialist
Eastern New York Commercial Horticulture
April 25, 2018
The cold, cloudy weather which has defined this spring so far hasn't prevented growers throughout the region from producing quality transplants. Here are some of the key points which are keeping plants healthy and vigorous:
1) Start plants off right: a well-built germination chamber will effectively regulate temperature and relative humidity using minimal amounts of energy. You can find a couple of easy to build designs for chambers here. Germination chambers should only be used to "pop" seeds—as soon as you see the first seedlings emerge, remove plants to the greenhouse so they don't stretch.
2) Water with care: Cold is ok, cloudy is ok, but cold and cloudy causes real water management challenges. When growers are using supplemental heat to keep temperatures in an acceptable range it can be tough to make the decision to vent excess humidity, so often walking into the greenhouse during those conditions is like walking into the rainforest. High humidity and low light means almost no transpiration by the plants, so soil that is wet stays wet. The best solution to this problem is prevention—if heading into a period of cold, wet days, minimize watering. And don't be afraid to use gable end vents or ridge vents if it is too wet in the greenhouse!
3) Fertilize equally carefully: There are a few challenges with fertilizing during cool, cloudy weather. One is that if plants are not taking up water, they aren't taking up fertilizer, either. This might lead to the impulse to fertilize more, which can lead to excess salt buildup and root burning. Another issue is that when temperatures are below 60 degrees F, N fertilizers can convert to ammonium which can be toxic to plants at elevated levels. Successful management of this issue involves scaling back the nitrogen fertility during periods of cool, wet weather, and managing watering to prevent plants from staying waterlogged. Media with optimal moisture levels will have more nitrifying bacteria, which convert ammonium to useable forms. A full factsheet on managing ammonium can be found here.
4) Practice good sanitation: A certain amount of disease is almost inevitable during the growing conditions we've been facing this spring. Scouting the greenhouse regularly and carefully removing flowers with botrytis, watching for crown rots, and adjusting spacing to maximize airflow and light infiltration make it possible to keep plants going through tough times.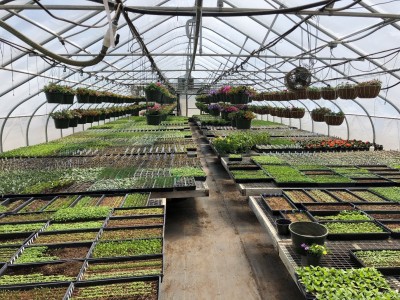 This article is from the April 26, 2018 edition of ENYCHP Vegetable News. To read the full newsletter, CLICK HERE.


Upcoming Events
Produce Safety Alliance Grower Training Course

February 25, 2020
Albany, NY
A grower training course developed by the Produce Safety Alliance (PSA) that meets the regulatory requirements of the Food Safety Modernization Act (FSMA) Produce Safety Rule. At least one person per farm producing more than $25,000 worth of fruits and vegetables must attend this course once. Participants will receive a certificate of course completion by the Association of Food and Drug Officials.
2020 ENYCHP Fruit & Vegetable Conference
February 25 - February 26, 2020
Albany, NY
Join us for two days filled with informative sessions on Tree Fruit, Vegetables, Small Fruit, Grapes, Hemp, and more!
Hands-on Pruning Demonstration with Dr. Terence Robinson - Capital Region
February 27, 2020
Altamont, NY
Join us for a morning of hands-on pruning discussion and demonstration with Dr. Terence Robinson. Terence will walk us through the key steps of pruning the tall spindle orchard, and will also review pruning techniques for other orchard systems commonly grown across the Capital Region. Please note this meeting will be held the morning following our annual winter conference in Albany.
Announcements
Podcasts