Supplemental Heat for Winter Greens Production: What's the Cost?
Ethan Grundberg, Vegetable Specialist
Eastern New York Commercial Horticulture
April 25, 2018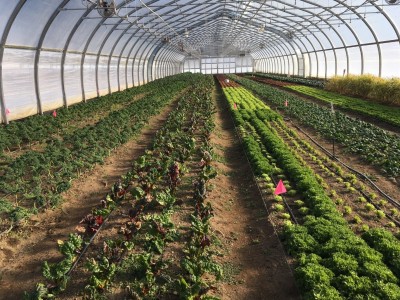 There seems to be little agreement among winter greens growers regarding the true costs and potential value of using supplemental heat all winter. With support from the Northeast Sustainable Agriculture Research and Education program (NE SARE) and the generous cooperation of the Poughkeepsie Farm Project (PFP), we tried to start gathering some data to add to the high tunnel heating debate. We tracked yield, soil nitrate availability, total nitrogen uptake, propane use, and soil temperature all winter in the two identical side-by-side 42'x196' double layer inflated poly Harnois high tunnels with one tunnel set to 33 degrees ambient air temperature and the other set to 40.
The data from the trial is still being analyzed, but here are a few key results that have emerged:
Maintaining adequate soil moisture and, ideally, living roots in the high tunnel before planting is necessary to preserve the soil microbial community that makes nitrogen available for plant uptake.
Soil nitrate levels were not significantly or consistently different between the two temperatures; however, total nitrogen uptake in the warmer tunnel was higher for curly kale, spinach, and especially for Salanova lettuce.
The warmer tunnel yielded three harvests in the same time that the cooler tunnel yielded only two.
It took 979 gallons of propane to heat the tunnel to 33 degrees from November through March. It took 2.1 times as much propane to add the extra 7 degrees to reach 40 over the same period.
Fertilizing to 70 pounds/acre of nitrogen in September provided sufficient nitrogen to kale, spinach, and Salanova until mid-February.
Targeted early spring fertigations with soluble Chilean nitrate carried those crops to maturity in early April
A big thanks to the great crew at PFP for all of the help tracking yield! Going forward, a group of vegetable specialists with Cornell Cooperative Extension hopes to continue to investigate fertility management in winter high tunnels generally and specifically the interplay between supplemental heating and nitrogen. If you are interested in collaborating, please reach out to Ethan at eg572@cornell.edu.
This article is from the April 26, 2018 edition of ENYCHP Vegetable News. To read the full newsletter, CLICK HERE.



Upcoming Events
2020 Fall Round Up: Fall Management for Your Livestock, Pasture, and Business
October 29, 2020
Join Cornell Cooperative Extension Educators Ashley Pierce, Aaron Gabriel, and Dayton Maxwell. This dynamic and slightly humorous group will discuss strategies for overwintering pastures in combination with management guidelines for helping livestock enter the winter season with adequate body condition. Farm visioning, mission development, and farm goal setting will conclude the one-hour program.
2021 Fruit & Vegetable Conference
February 16 - February 18, 2021
The Eastern NY Fruit & Vegetable Conference, normally held at The Desmond Hotel in Albany, will be going virtual 2021. The ENYCH team will try to coordinate with other regional fruit and vegetable teams from across the state to offer a larger statewide virtual meeting. These are tentative dates for now. Additional information will be continued to be shared as it becomes available.
Announcements
Podcasts