Blossom Blast and Bumblebees
Amy Ivy, Vegetable Specialist
Eastern New York Commercial Horticulture
April 25, 2018
There are a variety of reasons why blossoms might blast on tomatoes. Blast is a dramatic term for when the blossoms die and fall off before fruit can set. Temperatures over 95, manganese and zinc deficiencies, and pepMV virus are all possible causes. Some plants even do some self-thinning and shed blossoms when their fruit load is too great. But this week was the first time I had heard of the concept of over-pollination, and it seems several growers are having trouble with this in their early, heated high tunnel tomatoes.
Bumblebees are 'buzz pollinators,' meaning they shake the pollen out of the anthers by buzzing. They bite onto the anthers and then vibrate their bodies to shake loose the pollen. For an amazing video clip of how this works visit: https://www.youtube.com/watch?v=SZrTndD1H10 . Growers with heated tunnels can start their tomatoes extra early but they need to buy in bumble bees to pollinate since the native ones are not yet active.
Usually this process works fine but sometimes there are more bees than flowers and the hungry bees come back to the same flower multiple times, trying to shake more pollen loose. Too much of this aggressive feeding can kill the flowers (see photos).
One grower estimates he has lost half of all of his first flower clusters, a loss of about $2400, so this damage can be serious. The bee supplier has renamed its product line this year and most of our growers are ordering the 'start-up' hive. But this hive was developed for high volume hydroponic producers in mind and has more bees than usual. I visited three growers with this problem this week and we would be very interested to know how many others are having this problem. Please call, text or email me (adi2@cornell.edu or 518-570-5991).
Photo: Notice the darkened anthers (blue arrows) and the dropped blossoms (red circles). A little bit of darkening is tolerable but the flowers will drop if this much damage occurs.

This article is from the April 26, 2018 edition of ENYCHP Vegetable News. To read the full newsletter, CLICK HERE.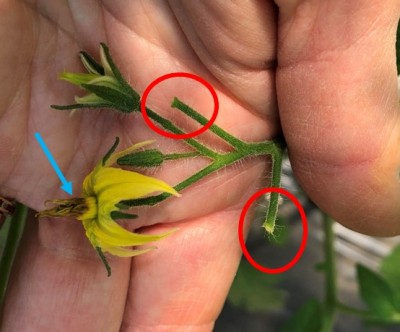 Upcoming Events
Champlain Valley Tree Fruit Grower Input Meeting
November 30, 2022
Plattsburgh, NY
We need your input! Mike will be holding a Champlain Valley tree fruit grower input session on November 30 in Plattsburgh at the Clinton County CCE office. Mike will review his 2022 research and extension activities. We would then like to hear from you to set priorities for future tree fruit research and education needs, and to get your input for speakers for our 2023 winter meetings.
How Profitable Will My New Orchard Investment Be? Zoom Series
December 5, 2022 : Looking at the Big Financial Picture for Your Farm
Your farm's big-3 financial records (balance sheet, income statement and statement of cash flow) and how to use them to assess your overall financial situation. This information will help you assess what types of investments are likely to be viable for your farm business and whether or not you are likely to be able to use credit to finance that investment. We will specifically cover Farm Profitability, Cash Flow, and Key Financial Ratios.
December 6, 2022 : Business Strategy and the Farm Value Chain
How do you create value? How do you differentiate yourself from your competitors? In other words - what is your farm's business strategy? Your investments should be in line with your strategy. Different business strategies will result in investments in different parts of the Farm Business Value Chain. Farm Business Value Chain - full range of activities needed to create a product or service.
December 7, 2022 : Using Your Farm's Financial Data to Make Management Decisions
Identifying the Enterprises in Your Value Chain. Your Profit Centers and Cost Centers. We will cover: Direct vs Indirect Costs and Cost Allocation and Variable vs Fixed Costs and Relevant Range (when does a fixed cost become a variable cost?)
December 8, 2022 : Operating Budgets and Strategic Planning
Operating budgets are the overall financial plan for the business. You can use a budget based on your current situation as the base to model new scenarios.
December 12, 2022 : Enterprise Budgets
It is more time-consuming to develop detailed budgets for your enterprises, but it is worthwhile to do this for area where you are considering making major investments. We will demonstrate how to move from an operating budget to an enterprise budget to model specific scenarios within that enterprise.
December 13, 2022 : 5 Step Decision-making Process for Capital Projects and Long-term Investments
Introduces a structured process for a manager to go through to decide among options for long-term investments, projects or changes to the farm business.
December 14, 2022 : Cost Volume Profit Analysis and Sensitivity Analysis
As you change your prices, volume of sales or costs of production how does your profit change? What is your break-even point and what output level do you need to achieve a target income? We will also cover sensitivity analysis that will help you see how your results will vary over a range of likely scenarios from best case to worst case. This will help you assess the riskiness of your plan.
December 15, 2022 : Capital Budgeting Tools - Net Present Value, Internal Rate of Return, and Payback Period
Capital budgeting is defined as the process used to determine whether capital assets are worth investing in. it's the process of asking: is an asset worth the resources it requires? Capital assets are usually long-term investments like new equipment, facilities, and other infrastructure upgrades. By incorporating strategically planned capital budgeting into their financial processes, companies can more effectively determine and prioritize which projects, programs and other investment assets could be most financially beneficial in the long-term.
SAVE THE DATES
December 13 - December 15, 2022February 2 - February 8, 2023February 21 - February 23, 2023
Save the Dates for the following Winter Meetings:
The New England Vegetable & Fruit Conference, DoubleTree Hotel and Conference Center, Manchester, New Hampshire, December 13-15 https://newenglandvfc.org/registration/
NOFA NY Virtual Winter Conference, February 2-5, 2023 https://nofany.org/2023conference/
Empire State Expo, Oncenter Syracuse, February 6-7 2023 https://nysvga.org/expo/information/
Becker Forum, Oncenter Syracuse, February 8, 2023 https://nysvga.org/expo/information/
Eastern NY Commercial Horticulture Program Regional Winter Meeting, The Desmond Hotel, Albany, February 21-23, 2023
Announcements
Podcasts