Blossom Blast and Bumblebees
Amy Ivy, Vegetable Specialist
Eastern New York Commercial Horticulture
April 25, 2018
There are a variety of reasons why blossoms might blast on tomatoes. Blast is a dramatic term for when the blossoms die and fall off before fruit can set. Temperatures over 95, manganese and zinc deficiencies, and pepMV virus are all possible causes. Some plants even do some self-thinning and shed blossoms when their fruit load is too great. But this week was the first time I had heard of the concept of over-pollination, and it seems several growers are having trouble with this in their early, heated high tunnel tomatoes.
Bumblebees are 'buzz pollinators,' meaning they shake the pollen out of the anthers by buzzing. They bite onto the anthers and then vibrate their bodies to shake loose the pollen. For an amazing video clip of how this works visit: https://www.youtube.com/watch?v=SZrTndD1H10 . Growers with heated tunnels can start their tomatoes extra early but they need to buy in bumble bees to pollinate since the native ones are not yet active.
Usually this process works fine but sometimes there are more bees than flowers and the hungry bees come back to the same flower multiple times, trying to shake more pollen loose. Too much of this aggressive feeding can kill the flowers (see photos).
One grower estimates he has lost half of all of his first flower clusters, a loss of about $2400, so this damage can be serious. The bee supplier has renamed its product line this year and most of our growers are ordering the 'start-up' hive. But this hive was developed for high volume hydroponic producers in mind and has more bees than usual. I visited three growers with this problem this week and we would be very interested to know how many others are having this problem. Please call, text or email me (adi2@cornell.edu or 518-570-5991).
Photo: Notice the darkened anthers (blue arrows) and the dropped blossoms (red circles). A little bit of darkening is tolerable but the flowers will drop if this much damage occurs.

This article is from the April 26, 2018 edition of ENYCHP Vegetable News. To read the full newsletter, CLICK HERE.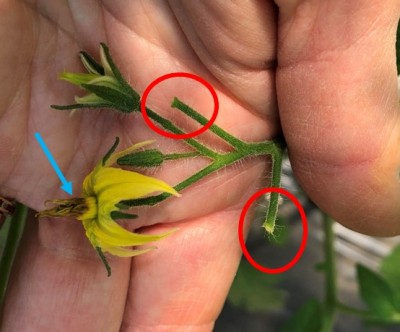 Upcoming Events
Agricultural Supervisory Leadership Certificate Program
June 17, 2022
June 23, 2022
June 30, 2022
July 7, 2022
July 14, 2022
July 21, 2022
July 28, 2022

Supervisors are critical to the success of farm businesses. They have a major impact both on employees' daily work experiences and on the production performance of the business. The agricultural Supervisory Leadership certificate helps farm supervisors and managers learn and apply human resource management practices and leadership skills that foster rewarding workplaces and drive business results. Confident managers who thoughtfully apply leadership and management skills improve employee performance, develop teams, reduce employee turnover, and increase employee engagement. The courses within the certificate program will offer extensive practice and engagement activities to build confidence and skill sets.
Peru Weed Management and Soil Health Field Day

July 20, 2022
Peru, NY
Join us in Peru on July 20th as we discuss orchard weed and soil management! Speakers will be joining us from across Cornell's research and extension teams. Topics will include the results of our herbicide timing trials, new vision-guided technologies for orchard weed spraying, organic weed management options, soil health demonstrations, and a discussion on our statewide orchard soil health survey. DEC credits are pending for this event.
July Next Gen Meetup at Bowman Orchards
July 21, 2022
Rexford, NY
The July Next-Gen meet-up is focused on marketing. We will provide everyone who registers with a resource guide to farm stand marketing. The Bowman's have a farm store, U-Pick berries, sunflowers, apples and pumpkins as well as a commercial apple orchard. We encourage you to check out their website (Bowman Orchards).
Young farmers are welcome to attend, the focus of the program is farmers who are in the process of taking over a farm from the prior generation (whether family or not). Please pre-register by July 18 so that we know you are coming and can have enough food for dinner and resource materials.
Announcements
Podcasts