Blossom Blast and Bumblebees
Amy Ivy, Vegetable Specialist
Eastern New York Commercial Horticulture
April 25, 2018
There are a variety of reasons why blossoms might blast on tomatoes. Blast is a dramatic term for when the blossoms die and fall off before fruit can set. Temperatures over 95, manganese and zinc deficiencies, and pepMV virus are all possible causes. Some plants even do some self-thinning and shed blossoms when their fruit load is too great. But this week was the first time I had heard of the concept of over-pollination, and it seems several growers are having trouble with this in their early, heated high tunnel tomatoes.
Bumblebees are 'buzz pollinators,' meaning they shake the pollen out of the anthers by buzzing. They bite onto the anthers and then vibrate their bodies to shake loose the pollen. For an amazing video clip of how this works visit: https://www.youtube.com/watch?v=SZrTndD1H10 . Growers with heated tunnels can start their tomatoes extra early but they need to buy in bumble bees to pollinate since the native ones are not yet active.
Usually this process works fine but sometimes there are more bees than flowers and the hungry bees come back to the same flower multiple times, trying to shake more pollen loose. Too much of this aggressive feeding can kill the flowers (see photos).
One grower estimates he has lost half of all of his first flower clusters, a loss of about $2400, so this damage can be serious. The bee supplier has renamed its product line this year and most of our growers are ordering the 'start-up' hive. But this hive was developed for high volume hydroponic producers in mind and has more bees than usual. I visited three growers with this problem this week and we would be very interested to know how many others are having this problem. Please call, text or email me (adi2@cornell.edu or 518-570-5991).
Photo: Notice the darkened anthers (blue arrows) and the dropped blossoms (red circles). A little bit of darkening is tolerable but the flowers will drop if this much damage occurs.

This article is from the April 26, 2018 edition of ENYCHP Vegetable News. To read the full newsletter, CLICK HERE.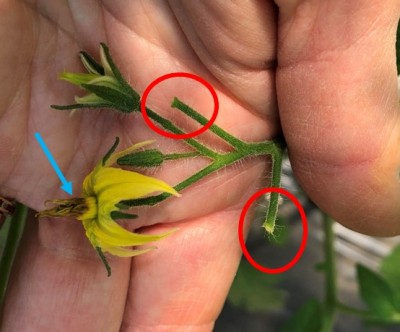 Upcoming Events
October Last Monday Grant Webinar for Fruit and Vegetable Growers
October 28, 2019
4:00 pm
Are you curious about what grants are available to help your farm business?
To help disseminate information on grants on a consistent basis, ENYCH is offering a "current grants" webinar on the last Monday of every month at 4:00pm
Each month's webinar focuses on 1 grant. The October webinar topic is TBD but might feature Ag Labor Housing Grants.
Produce Safety Alliance FSMA Grower Training Course
October 30, 2019
8am - 5pm
Canajoharie, NY
A grower training course developed by the Produce Safety Alliance (PSA) that meets the regulatory requirements of the Food Safety Modernization Act (FSMA) Produce Safety Rule. At least one person per farm producing more than $25,000 worth of fruits and vegetables must attend this course once. Participants will receive a certificate of course completion by the Association of Food and Drug Officials.
Tarping for Reduced Tillage Workshop
November 2 - November 19, 2019

Are you a vegetable farmer already using tarps? Or are you wondering if and how tarps could work best on your farm?

The Cornell Small Farms Program is excited to announce a series of workshops on tarping for reduced tillage in small-scale vegetable systems, to be held in Maine and New York this fall. The Reduced Tillage (RT) project of the Cornell Small Farms Program supports farmers in adopting scale-appropriate RT practices that can lead to healthy, productive soils and greater profitability. Through the evaluation of novel tools and methods using systems-based field research and on-farm trials, the project helps farmers learn about the approaches that can work for their farm. This work is accomplished in collaboration with the University of Maine, and with support from Northeast SARE.

Announcements
Podcasts