Early Season Garlic Fertility
Crystal Stewart-Courtens, Extension Vegetable Specialist
Eastern New York Commercial Horticulture
April 26, 2018
The most important time to make nitrogen available to a garlic plant in order to increase yield is shortly after leaf emergence from the ground. Success in providing optimal nitrogen will depend on the nitrogen source you are using and some well-timed assistance from soil biology.
Remember that the nitrogen cycle is driven by biology, and biology is driven by temperature (and soil health!). Organic matter is decomposed partially into ammonium by a suite of microbes before nitrification (see Figure 1 for a handy visual). As the soil warms, N that is bound in organic matter (slow release N) will be made available, and ammonium nitrogen will turn to nitrate nitrogen (Figure 2), which is easily taken up by plants.
Bare ground garlic growers can apply their nitrogen in the spring using a variety of sources including very soluble nitrate-nitrogen forms, because the plant will take up the fertilizer readily now. Our latest research is showing that garlic needs no more than 50 lbs/A of N applied in a spring sidedressing.
Nitrogen applied later in the growing cycle of garlic has very little if any effect on the final bulb size. So if you haven't applied your N yet, now is the time!
Figure 1: Nitrogen cycling, including organic and inorganic forms.
Figure 2: relationship of nitrification to soil temperature. As temperatures climb, nitrifying bacteria more quickly convert ammonia forms of N to nitrate forms, which are more plant available but also more prone to leaching.
This article is from the April 26, 2018 edition of ENYCHP Vegetable News. To read the full newsletter,CLICK HERE.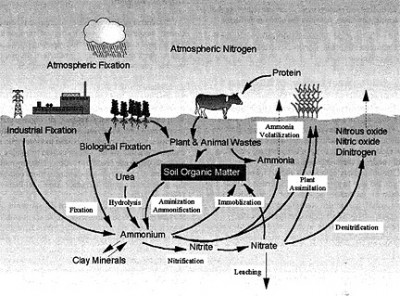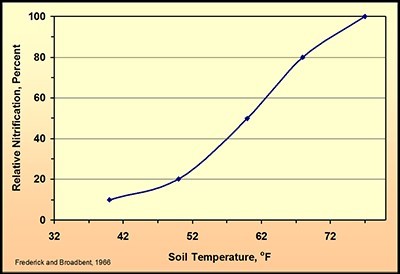 Figure 2


Upcoming Events
Soil Health for Vegetable Growers Workshop

November 1, 2023
Essex, NY
Join us for presentations, discussions, and hands-on demonstrations focusing on soil health concepts and best management practices for vegetable growers. Topics include tarping, maintaining soil health in high tunnels, cover cropping, reduced tillage, compost microbiology, and more.
1.75 DEC pesticide recertification credits available in categories 1A, 10, and 23.
Announcements
Podcasts