Be on the Lookout for Southern Blight
Ethan Grundberg, Vegetable Specialist
Eastern New York Commercial Horticulture
April 27, 2018
Southern Blight is caused by the fungal pathogen Sclerotium rolfsii and has historically only been a concern to growers in southern states. However, Cornell pathologist Dr. Sarah Pethybridge has seen an
increase in the incidence of Southern Blight in New York over the past several years. This winter, Dr. Pethybridge confirmed the presence of S. rolfsii on golden storage beets in Dutchess County. Given the broad host range of the pathogen that includes over 1,200 crops and weeds, it is imperative that growers who suspect a possible Southern Blight infestation on their farm contact extension to confirm the diagnosis to assist with optimizing crop rotations to reduce soilborne inoculum.
The most common symptom observed in the field is wilting or collapse of the plant. Upon closer inspection, affected plants often have reddish-brown dry lesions at the soil line. Fungal mycelium is also usually present as a thick white mat around the base of the stem. The Southern Blight pathogen also produces overwintering bodies called sclerotia under the right environmental conditions (typically high humidity with temperatures about 80 °F, but sclerotia were found on beets in cold storage at 40 °F). The sclerotia formed by S. rolfsii are a key identifying feature; they are small balls similar in appearance to Dijon mustard seeds that change in color from white to golden to reddish-brown (see image). These sclerotia can survive in the soil for years and endure temperature extremes and drought while waiting to germinate in the presence of a host plant under the right environmental conditions.
Crops that are most commonly affected by Southern Blight are tomatoes, peppers, snap beans, onions, garlic, and Jerusalem artichokes; however, as indicated above, the pathogen can grow and reproduce on a much broader range of plants. Like with most diseases, early detection and proper identification are critical! Infested plants should be removed and destroyed if possible. Symptomatic plants should NOT be placed in compost, as they may contain sclerotia that will then be spread with the compost to other fields. Some small grains and corn are less susceptible to Southern Blight and can be used in rotation in heavily infested fields, but crop rotation is typically not a viable strategy for management of this pathogen given its broad host range. Initial research in New York suggests that deep plowing of infested fields to bury sclerotia and infested residue at least 6-inches deep can lower the pathogen's survival rate.

Several effective chemical controls are available to conventional growers, but they must be applied preventatively. Labeled formulations of azoxystrobin (Quadris), pyraclostrobin (Cabrio), and penthiopyrad (Fontelis) have been effective for growers in the south. Some research has suggested that OMRI-approved biocontrol agents, such as Trichoderma harzianum (RootShield, TerraGrow) and Gliocladium virens (SoilGard), may also help reduce the number of Southern Blight sclerotia and prevent colonization of host plant tissue by the pathogen.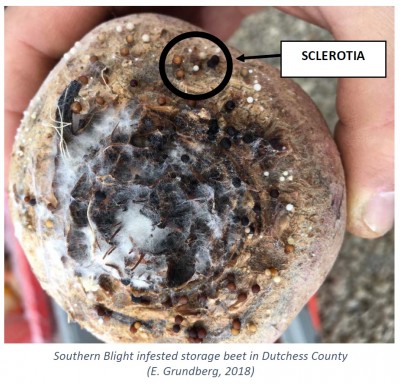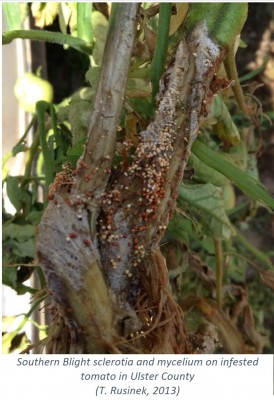 Upcoming Events
Champlain Valley Tree Fruit Grower Input Meeting
November 30, 2022
Plattsburgh, NY
We need your input! Mike will be holding a Champlain Valley tree fruit grower input session on November 30 in Plattsburgh at the Clinton County CCE office. Mike will review his 2022 research and extension activities. We would then like to hear from you to set priorities for future tree fruit research and education needs, and to get your input for speakers for our 2023 winter meetings.
How Profitable Will My New Orchard Investment Be? Zoom Series
December 5, 2022 : Looking at the Big Financial Picture for Your Farm
Your farm's big-3 financial records (balance sheet, income statement and statement of cash flow) and how to use them to assess your overall financial situation. This information will help you assess what types of investments are likely to be viable for your farm business and whether or not you are likely to be able to use credit to finance that investment. We will specifically cover Farm Profitability, Cash Flow, and Key Financial Ratios.
December 6, 2022 : Business Strategy and the Farm Value Chain
How do you create value? How do you differentiate yourself from your competitors? In other words - what is your farm's business strategy? Your investments should be in line with your strategy. Different business strategies will result in investments in different parts of the Farm Business Value Chain. Farm Business Value Chain - full range of activities needed to create a product or service.
December 7, 2022 : Using Your Farm's Financial Data to Make Management Decisions
Identifying the Enterprises in Your Value Chain. Your Profit Centers and Cost Centers. We will cover: Direct vs Indirect Costs and Cost Allocation and Variable vs Fixed Costs and Relevant Range (when does a fixed cost become a variable cost?)
December 8, 2022 : Operating Budgets and Strategic Planning
Operating budgets are the overall financial plan for the business. You can use a budget based on your current situation as the base to model new scenarios.
December 12, 2022 : Enterprise Budgets
It is more time-consuming to develop detailed budgets for your enterprises, but it is worthwhile to do this for area where you are considering making major investments. We will demonstrate how to move from an operating budget to an enterprise budget to model specific scenarios within that enterprise.
December 13, 2022 : 5 Step Decision-making Process for Capital Projects and Long-term Investments
Introduces a structured process for a manager to go through to decide among options for long-term investments, projects or changes to the farm business.
December 14, 2022 : Cost Volume Profit Analysis and Sensitivity Analysis
As you change your prices, volume of sales or costs of production how does your profit change? What is your break-even point and what output level do you need to achieve a target income? We will also cover sensitivity analysis that will help you see how your results will vary over a range of likely scenarios from best case to worst case. This will help you assess the riskiness of your plan.
December 15, 2022 : Capital Budgeting Tools - Net Present Value, Internal Rate of Return, and Payback Period
Capital budgeting is defined as the process used to determine whether capital assets are worth investing in. it's the process of asking: is an asset worth the resources it requires? Capital assets are usually long-term investments like new equipment, facilities, and other infrastructure upgrades. By incorporating strategically planned capital budgeting into their financial processes, companies can more effectively determine and prioritize which projects, programs and other investment assets could be most financially beneficial in the long-term.
SAVE THE DATES
December 13 - December 15, 2022February 2 - February 8, 2023February 21 - February 23, 2023
Save the Dates for the following Winter Meetings:
The New England Vegetable & Fruit Conference, DoubleTree Hotel and Conference Center, Manchester, New Hampshire, December 13-15 https://newenglandvfc.org/registration/
NOFA NY Virtual Winter Conference, February 2-5, 2023 https://nofany.org/2023conference/
Empire State Expo, Oncenter Syracuse, February 6-7 2023 https://nysvga.org/expo/information/
Becker Forum, Oncenter Syracuse, February 8, 2023 https://nysvga.org/expo/information/
Eastern NY Commercial Horticulture Program Regional Winter Meeting, The Desmond Hotel, Albany, February 21-23, 2023
Announcements
Podcasts