High Tunnel Tomatoes - Early Pruning Pays off
Amy Ivy, Vegetable Specialist
Eastern New York Commercial Horticulture
May 2, 2018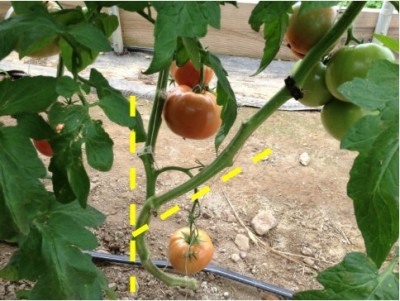 May is an insane time around any NY vegetable farm and it's a challenge to prioritize the mountain of tasks each day. But a little time spent pruning and training your high tunnel tomato plants now can really pay off later. Not only will they yield better, your labor will be more efficient during harvest since workers won't be plowing through a dense tangle of leafy stems to get to the tomatoes.
Here's a quick review:
Remove lower leaves up to the first fruit cluster. Bend the leaf up, then down and it should snap off cleanly, making quick work of this simple but important task. Why? It increases airflow around the plant to discourage disease and makes the plant easier to work around.
Strong Y - whether you are training determinate or double leader indeterminate (see below) start both with the Strong Y. See the photo to locate the weaker suckers to remove and the co-dominate sucker to keep just below the first flower cluster. Allow only the main leader and co-dominate leader to develop, removing all the other suckers and leaves up to this 'Y' junction on the plant. Why? The lower suckers are less productive. Removing them sends the plant's food energy to the remaining stems, shoots and fruit.
Determinate tomatoes - train them to the 'stake and weave' aka 'Florida weave' system. Set a post between every 2-3 plants and start the horizontal twining early so the plants can grow up through the support. Why? This level of support will keep the aisles open for efficient worker movement and will keep the fruit up off the ground for easy harvest.
Indeterminate tomatoes - For large slicing tomatoes some growers prefer single leaders, some prefer double. When in doubt, the double leader system works well in most situations.
In our cherry tomato trial we found the double leader system was the best option in terms of labor efficiency and yield, compared to a single or multi leader system.
Check out these helpful factsheets for more photos and details: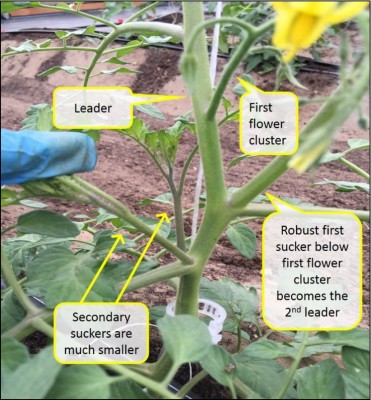 This article is from the May 3, 2018 edition of ENYCHP Vegetable News. To read the full newsletter,CLICK HERE.


Upcoming Events
October Last Monday Grant Webinar for Fruit and Vegetable Growers
October 28, 2019
4:00 pm
Are you curious about what grants are available to help your farm business?
To help disseminate information on grants on a consistent basis, ENYCH is offering a "current grants" webinar on the last Monday of every month at 4:00pm
Each month's webinar focuses on 1 grant. The October webinar topic is TBD but might feature Ag Labor Housing Grants.
Produce Safety Alliance FSMA Grower Training Course
October 30, 2019
8am - 5pm
Canajoharie, NY
A grower training course developed by the Produce Safety Alliance (PSA) that meets the regulatory requirements of the Food Safety Modernization Act (FSMA) Produce Safety Rule. At least one person per farm producing more than $25,000 worth of fruits and vegetables must attend this course once. Participants will receive a certificate of course completion by the Association of Food and Drug Officials.
Tarping for Reduced Tillage Workshop
November 2 - November 19, 2019

Are you a vegetable farmer already using tarps? Or are you wondering if and how tarps could work best on your farm?

The Cornell Small Farms Program is excited to announce a series of workshops on tarping for reduced tillage in small-scale vegetable systems, to be held in Maine and New York this fall. The Reduced Tillage (RT) project of the Cornell Small Farms Program supports farmers in adopting scale-appropriate RT practices that can lead to healthy, productive soils and greater profitability. Through the evaluation of novel tools and methods using systems-based field research and on-farm trials, the project helps farmers learn about the approaches that can work for their farm. This work is accomplished in collaboration with the University of Maine, and with support from Northeast SARE.

Announcements
Podcasts