Mix and Match: Compatibility of Biocontrol with other Pest Management Strategies
May 2, 2018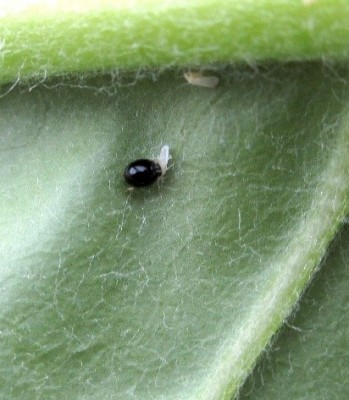 By Amara Dunn, Biocontrol Specialist, NYS Integrated Pest Management Program (arc55@cornell.edu)
Editor's Note: This is an excerpt from a recent post on Amara's blog. The complete posting with images of resources and more details is available at https://blogs.cornell.edu/bioc...
If you were going to tank mix chemical pesticides, you would of course read the label to check for compatibility before mixing products. The same concept applies when using living organisms for pest control. Whether you are using parasitoid wasps, predatory mites, microorganisms, or nematodes, you need to know whether your biocontrols are compatible with each other and any other pest management products you plan to use. For example, a biocontrol fungus might be killed if you tank mix it with (or apply it just before) a chemical fungicide. Insecticides (whether or not they are biological) could be harmful to natural enemy insects and mites. Even some beneficial insects are not compatible with each other because they may eat each other instead of (or in addition to) the pest.
It's a good idea to keep an updated list of the products and organisms you plan to use for pest management, and their compatibility with each other. For biopesticides (remember the difference between "biopesticide" and "biocontrol"?), start by reading the label. You must follow all instructions you find there. Many manufacturers also provide lists, tables, databases, or apps to help you find compatibility information. This is especially useful for insect, mite, and nematode natural enemies, which are not pesticides and do not have pesticide labels. When possible, obtain compatibility information from the manufacturer or supplier you will be using. Different strains of the same microorganism or nematode may have different sensitivities to chemicals.Remember that NY pesticide labels (including biopesticide labels) can be found through the NYSPAD system.
Photo: This small black Delphastus (a predatory beetle) is helping to control whiteflies in a greenhouse. It's important that other pest management strategies in this greenhouse are used in such a way that they do not harm the Delphastus.
Below are some links to resources from several manufacturers and suppliers of biocontrol products. No endorsement of specific companies or products mentioned in this post is intended.
· Beneficial nematodes from BASF
· Compatibility of BioWorks products
· Koppert Side Effects Information
This article is from the May 3, 2018 edition of ENYCHP Vegetable News. To read the full newsletter,CLICK HERE.


Upcoming Events
Soil Health for Vegetable Growers Workshop

November 1, 2023
Essex, NY
Join us for presentations, discussions, and hands-on demonstrations focusing on soil health concepts and best management practices for vegetable growers. Topics include tarping, maintaining soil health in high tunnels, cover cropping, reduced tillage, compost microbiology, and more.
1.75 DEC pesticide recertification credits available in categories 1A, 10, and 23.
Announcements
Podcasts