Managing Basil Downy Mildew
Teresa Rusinek, Vegetable Specialist
Eastern New York Commercial Horticulture
May 2, 2018
There are already concerns from growers about downy mildew and with good reason; this disease is difficult to control and destructive. Basil downy mildew can be seed borne but does not persist long in the environment when the host plant is not present. It does not overwinter in the field, but can persist in a greenhouse if basil is grown continuously. Once basil is in the field is may be infected by wind- blown spores from other areas.
There are options to limit your risk. In the greenhouse, avoid favorable conditions for disease development. The basil downy mildew pathogen needs humidity of at least 85% in the plant canopy to be able to infect. This disease can be controlled effectively by keeping humidity low. Practices to achieve this include base watering, wide plant spacing, circulating fans, lights, and increasing temperature. Base heating is an especially effective method to reduce humidity. Set up sensors in the plant canopy to monitor humidity to ensure implementing practices are sufficient.
One of the most effective management strategies is planting a downy mildew resistant variety, and the good news is that there are more of these varieties available to growers. Below is an update from Margaret McGrath.
New Downy Mildew Resistant Basil Varieties: Devotion, Obsession, and Thunderstruck are the first varieties developed at Rutgers University through a USDA‐funded project that included evaluations at LIHREC, which documented high level of resistance in preceding experimental lines. Reports are posted at http://blogs.cornell.edu/liveg... These varieties are available from VanDrunen Specialty Seeds. Amazel is another new variety reported to be highly resistant. Emma and Everleaf (aka Basil Pesto Party and M4828Z when evaluated at LIHREC) have moderate resistance. Everleaf exhibited better suppression than Eleonora, the first commercially‐available resistant basil, when evaluated at LIHREC. To achieve acceptable control, all resistant varieties need to be used with other management practices, in particular fungicides, due to very low tolerance for symptoms in herbs especially when used fresh.
Long Island Fruit & Vegetable Update; No.4; April 26, 2018
Photo: Yellowing of the upper surface of affected basil leaves often occurs in sections of the leaf delineated by veins because the downy mildew pathogen cannot grow past major veins in leaves. Photo: Margaret McGrath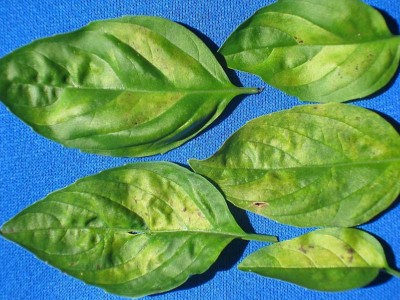 Photo: Purplish gray spores of the downy mildew pathogen only develop on the lower surface of leaves. Photo: Margaret McGrath
This article is from the May 3, 2018 edition of ENYCHP Vegetable News. To read the full newsletter,CLICK HERE.



Upcoming Events
No upcoming events at this time.
Announcements
Podcasts